C.S. Lewis Coming to Broadway in October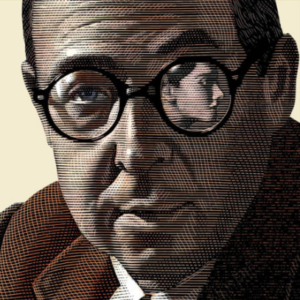 This autumn in New York City, the Fellowship for Performing Arts will be reviving William Nicholson's Tony-nominated and Olivier Award-winning play Shadowlands. Directed by Broadway veteran Christa Scott-Reed and set to premiere this October, the play tells the love story of C.S. Lewis and Joy Davidman:
In its first New York revival, William Nicholson's award-winning play Shadowlands follows the unlikely and true love story of renowned Oxford scholar and Christian apologist C.S. Lewis and the much younger Joy Davidman, a Jewish-American writer, former Communist and Christian convert. The smart, brash Joy bursts into Lewis' sedate, middle-aged life and upends it. Lewis is as shocked as anyone to discover that he and Joy have fallen deeply in love – and then almost immediately he must contend with the equally deep pain of losing her when she is diagnosed with terminal cancer. Full of great humor and keen insight, the play is a moving portrait of love and loss, faith and doubt, as inspired by Lewis' own A Grief Observed.
Nicholson's Shadowlands is best known for its 1993 film adaptation starring Anthony Hopkins. The upcoming Fellowship of Performing Arts stage production follows Max McLean's portrayal of Lewis in A Most Reluctant Convert. (See NarniaWeb's review for the gripping one-man play here.)
"It's outstanding timing that FPA audiences will see Shadowlands so soon after seeing Max's wonderful show The Most Reluctant Convert," says Director Christa Scott-Reed. "On so many levels, Shadowlands is the natural next step for an audience member who is learning more about C.S. Lewis's journey of faith. In The Most Reluctant Convert, we see Lewis slowly, and, yes, reluctantly, opening himself up to God and then Christianity. In Shadowlands, we see him slowly and as reluctantly opening himself up to love and then marriage. In The Most Reluctant Convert, we see him find his faith. In Shadowlands, we see him at risk of losing it."
Shadowlands premieres on October 17th and is scheduled to run until January 7th. Tickets on sale soon. For more information, check out The Fellowship for Performing Arts' website.
Thanks to 'Just Queen, not High Queen' for the alert.