Other Narnia Adaptations
The recent movies are not the only adaptations of C.S. Lewis's beloved classics. Here is a list of the most notable along with some handy reference information.
---

Children's Television Workshop (1979)
 Animated Feature: The Lion, the Witch and the Wardrobe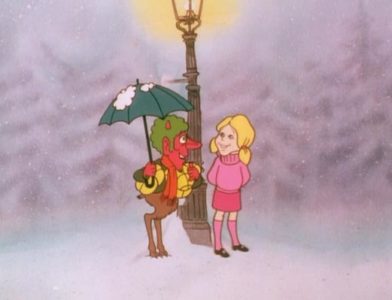 Director
Bill Melendez
Writers
David D. Connell, Bill Melendez
Music
Michael J. Lewis
American Cast
Reg Williams (Peter), Susan Sokol (Susan), Simon Adams (Edmund), Rachel Warren (Lucy), Stephen Thorne (Aslan), Victor Spinetti as (Tumnus) Dick Vosburgh (Professor), Don Parker (Mr. Beaver), Liz Proud (Mrs. Beaver), Beth Porter (White Witch)
Running Time
95 minutes
Notes
Two versions were created: One with American actors and another with English actors. 
Adaptation
Much of the dialogue comes from the book, but there are some notable changes: The story actually opens with Lucy jumping out of the wardrobe and claiming to have met a faun – her adventure with Tumnus is then shown in flashback. The captain of the Witch's secret police is named Fenris Ulf (the name Lewis gave him in early American editions) instead of Maugrim. Father Christmas does not appear – the Pevensies receive their gifts from Aslan.
Order
Amazon
BBC (1988-1990)
Television Serial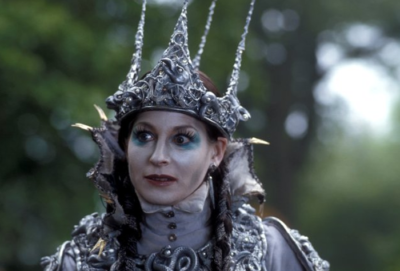 Producer
Paul Stone
Directors
Marilyn Fox (LWW), Alex Kirby (PC, VDT, SC)
Teleplay
Alan Seymour
Cast
Richard Dempsey (Peter), Sophie Cook (Susan), Jonathan R. Scott (Edmund), Sophie Wilcox (Lucy), Ronald Pickup (Aslan), Barbara Kellerman (White Witch), Kerry Shale (Mr. Beaver), Lesley Nicol (Mrs. Beaver), Jeffrey Perry (Tumnis), Martin Stone (Maugrim), Michael Aldridge (Professor), Jean Marc Perret (Prince Caspian), Samuel West (King Caspian), Reepicheep (Warwick Davis), Mick Walter (Trumpkin), David Thwaites (Eustace), Camilla Power (Jill), Tom Baker (Puddleglum), Richard Henders (Rilian), Lady of the Green Kirtle (Barbara Kellerman), Glimfeather (Warwick Davis)
Running Time
Approx 500 minutes (18 episodes)
Notes
Only the first four books were produced: The Lion the Witch and the Wardrobe, Prince Caspian, The Voyage of the Dawn Treader, and The Silver Chair.
Trivia
Warwick Davis (Reepicheep, Glimfeather) would go on to play Nikarick in Disney/Walden's Prince Caspian movie (2008).
Adaptation
Most of the dialogue comes from the book. The story of Prince Caspian was compressed into less than an hour. 
Order
Amazon

BBC Radio 4 (1988-1997)
Audio Dramatizations: Tales of Narnia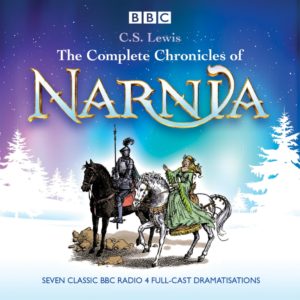 Dramatized by
Brian Sibley
Cast
Neil Jeffrey (Peter), Abigail Docherty (Susan), Henry Power (Edmund), Camilla Power (Lucy), Maurice Denham (Professor), Stephen Throne (Aslan), Rosemary Martin (White Witch), Norman Bird (Tumnus), Mr. Beaver (David Goodland), Polly March (Mrs. Beaver), Tom Wilkinson (Caspian), Marco Williamson (Eustace), Sylvester McCoy (Reepicheep)
Music
Elizabeth Parker
Running Time
Approx 15 hours
Trivia
Sylvester McCoy (Reepicheep) would go on to play Radagast in Peter Jackon's The Hobbit trilogy (2012-2014).
Adaptation
The narrator is generally used as little as possible, so there is a fair amount of additional dialogue. For example, The Silver Chair opens with Eustace explaining the injustice at Experiment House to Edmund and Lucy. Professor Digory Kirke actually narrates The Magician's Nephew and The Lion, the Witch and the Wardrobe (the stories are told in chronological order).

Focus on the Family (1999-2002)
Audio Dramatizations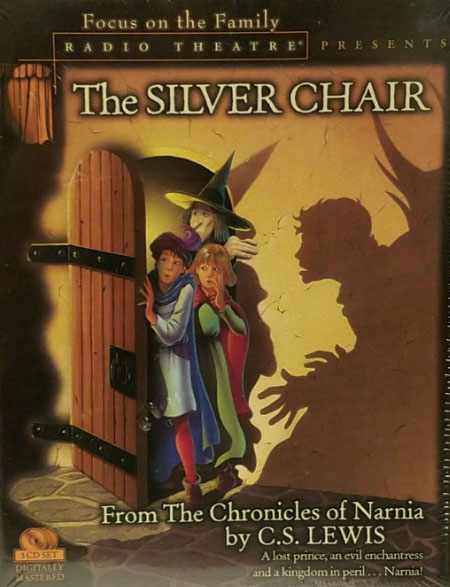 Producer
Dave Arnold
Cast
Paul Scofield (Narrator), David Suchet (Aslan), Elizabeth Counsell (White Witch), Nathaniel Lippiett (Digory), Jessica Fox (Polly), Richard Syms (Uncle Andrew), Freddie Findlay (Peter), Katherine Suchet (Susan), Matthew White (Edmund), Elizabeth Eaton (Lucy), Timothy Bateson (Mr. Beaver) Polly March (Mrs. Beaver), Philip Sherlock (Tumnus), John Woodnut (Professor Kirke).
Music
John Campbell
Notes
Each story is preceded by a short introduction from Douglas Gresham, stepson of C.S. Lewis.
Adaptation
Nearly all of the dialogue comes straight from C.S. Lewis and a narrator is used heavily. There are no major departures from the book, though some scenes are compressed or removed. There is one small but notable addition in The Voyage of the Dawn Treader: After realizing what a nuisance he has become, Dragon-Eustace selflessly decides to leave the company and remain on the island, but Aslan undragons him first.
Order
Focus on the Family store

On Stage