Walter Hooper, C.S. Lewis's Private Secretary and Conservator of Literary Legacy, Has Passed Away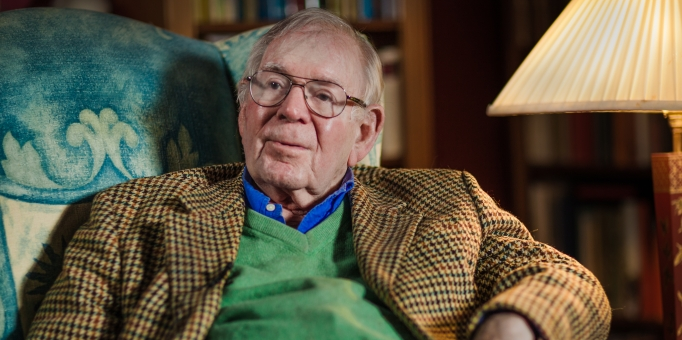 Walter Hooper, C.S. Lewis's private secretary during his final months in 1963 and trustee of his literary works for more than half a century, has passed away at the age of 89 after contracting the coronavirus.
Walter Hooper was born in Reidsville, North Carolina, and graduated from the University of North Carolina in 1954. After being introduced to the works of C.S. Lewis by the captain of the football team, Hooper was able to find a copy of Lewis's book Miracles which he then smuggled into Army boot camp by hiding it in his fatigues.
His admiration for Lewis's writings inspired him to write to the author, which sparked a correspondence with Lewis that lasted until Hooper went to visit him in Oxford, England, in the summer of 1963. The two quickly struck up a friendship, and Lewis, in declining health and widowed three years before, asked Hooper to live with him as his secretary. Lewis died a few months later on November 22nd, 1963.
During the days following C.S. Lewis's death, Hooper was instrumental in preserving Lewis's legacy by rescuing his papers and manuscripts from destruction. In the many decades since, Hooper's dedication to the late author's work has continued by serving as trustee of the literary estate, making him a key figure in putting Lewis's library of work on bookshelves around the world. He edited manuscripts, published collections of Lewis's letters, and re-published out-of-print books. For fans of Narnia, one of Hooper's most interesting contributions was the inclusion of the Narnia timeline in his book Past Watchful Dragons.
The staff at NarniaWeb would like to extend our heartfelt condolences to Mr. Hooper's family and friends, and our sincere gratitude for his many years spent in service of C.S. Lewis's literary legacy.
All their life in this world and all their adventures in Narnia had only been the cover and the title page: now at last they were beginning Chapter One of the Great Story, which no one on earth has read: which goes on for ever: in which every chapter is better than the one before.

C.S. Lewis, The Last Battle