Narnia Coverage at Comic-Con
Comic-Con is one of the world's biggest annual comic book, video game, and movie conventions. It is being held at the San Diego Convention Center this week and it's not surprising that the Chronicles of Narnia have quite a showing. Besides a Narnia booth with full-size statues, convention-goers will have an opportunity to get an exclusive look at the film at Sunday's presentation (July 17th).
Sunday's panel will include live satellite appearances with director Andrew Adamson and producer Mark Johnson. Appearing live will be Richard Taylor (FX Master), Howard Berger (Makeup FX Supervisor), and Dean Wright (Visual FX Supervisor). The panel discussion begins at 12:30 and should feature exclusive clips from the film. 20 minutes of audience Q & A will follow and then an hour of autograph signing at 1:30.
The production has announced that there will be a few big surprises so stay tuned for NarniaWeb's coverage of the event.
In other Comic-Con news, Thursday's The Digital Bits: DVD Producers 2005 event will feature Robert Meyer Burnett who is working this year on the Chronicles of Narnia DVD. This event is from noon to 1:30pm.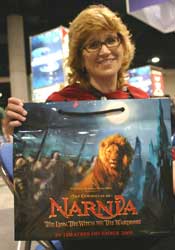 We also have a picture from The Disembodied Brain of the hard-to-get Narnia freebie-bag. Whitney Hansen of Ventura said "It's a cool bag and I think it's going to be a hot movie. I had to go back three times for it."
Click here for pictures from the convention
Click here for Comic-Con's website