Child Stars of New Narnia Film Unveiled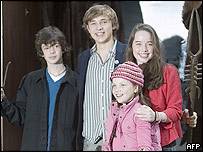 From Ireland Online: William Moseley, 18, from Gloucestershire, plays Peter, and Skandar Keynes, 14, from London, is Edmund. Keynes is from the same school as Harry Potter star Daniel Radcliffe. The youngest of the four, Georgie Henley, 10, from Ilkley, West Yorkshire, who stars as Lucy, is making her professional acting debut. "This is my first movie so it's quite overwhelming for me, but it's amazing," she said. "I don't want to sound selfish or anything, but I kind of like being in the spotlight. It's nice to be noticed." Sixteen-year-old Anna Popplewell, who played Colin Firth's daughter in the film Girl with a Pearl Earring, is Susan. She said: "We actually did a lot of our snow scenes in a studio in New Zealand. "It was pretty weird pretending to be freezing in these huge coats while we were in a boiling hot studio." Her sister Lulu appeared in Love Actually and her brother Freddie was in recent film Peter Pan.
Also Lauren from Newsround wrote: "I asked them how they felt about becoming famous and they didn't really know how to answer because they said they're not famous yet! Also, I asked Anna, who plays Susan, if the Snow Queen was scary; she said the actress who played her was very intense but she wasn't afraid of her. And she hopes the film's exciting: "The screen magic's very different to the book magic but I think it's magical and I hope everyone's going to enjoy it." Georgie Henley who plays Lucy was my favourite out of all of them because she's so young but so confident, she'll talk to anybody! And she's only 10!"
See press pictures at Getty Images
See press pictures at ISIFA
UPDATE: 'rachelavonlea' pointed us to another report: Read it here
You can also see a video clip with the children talking here. Click on "Launch Newsround Player", and the clip is in the "Press Pack" section.
Ciboule and phil pointed us to more pictures of the actors! View them here and here