'Wardrobe' Blu-Ray Specs and Cover Art
Disney has revealed full details on "The Lion, the Witch and the Wardrobe" Blu-Ray Disc, which releases May 13. It will include the theatrical version of the film in high definition, and the same extras as the 2-disc Collectors Edition with one exception: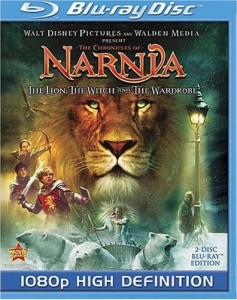 The Chronicles Of Narnia: The Lion, The Witch And The Wardrobe will be presented in widescreen 2.4:1 1080p video and PCM 5.1 uncompressed 48 kHz/16-bit lossless audio.

* "Battle For Narnia" All-New Game
* Creatures Of The World
* Explore Narnia 3-D Map
* Legends In Time
* Audio Commentary With Director Andrew Adamson And Stars
* Audio Commentary With The Filmmakers
* The Bloopers Of Narnia
* Chronicles Of A Director
* The Children's Magical Journey
* Evolution Of An Epic
* From One Man's Mind
* Cinematic Storytellers
* Creating Creatures
* Anatomy Of A Scene

The "Battle of Narnia" game is described as an "interactive role-playing" experience which we presume will be authored in BD-J. Notably missing from the specs is full motion picture-in-picture support, a feature Disney previously mentioned as being included in the release.
Learn more about Blu-Ray Disc (By the way, Blu-Ray Players also play regular DVDs)