First LWW Blu-Ray Review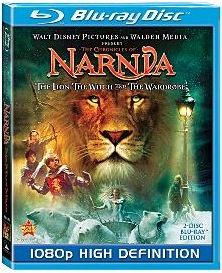 Matt from Home Theater Forum has posted a review for "The Lion the Witch and the Wardrobe" on Blu-Ray Disc, which releases on May 13.
Video Quality: 4.5 out of 5
The film's 2.40:1 theatrical aspect ratio is presented here in a marvelous 1080p transfer using the AVC codec. Apart from one or two shots where CGI creations sharing the frame with live actors appear a bit soft, the sharpness and dimensionality of this transfer are startling. The early London scenes are purposely desaturated somewhat, but as the children move to the countryside, color becomes more vibrant. Narnia at first is a sea of white, but after the thaw occurs, the color is rich and beautifully saturated with very accurate flesh tones and fine black levels. The film is divided into 24 chapters.

Audio Quality: 5/5
The PCM 5.1 (4.6 Mbps) track is alive with a wide front soundstage (Harry Gregson-Williams' wonderful score resides across the front channel and only later on spreads to the rears) and intelligent use of the rear channels for a dazzling array of discreet ambient sounds. There is some use of directionialzed dialog, but most of the speaking is rooted to the center channel. LFE can be surprisingly deep not only during the blitz scenes that open the picture but throughout the action-filled sequences that are present.

Overall: 4.5/5 (not an average)
The Blu-ray edition of The Chronicles of Narnia: The Lion, the Witch, and the Wardrobe is just about as complete a package for the film as one could wish. Sterling picture quality is combined with an amazing uncompressed audio track to produce the best representation of this film yet seen on home video.
Matt also says that a $10 rebate coupon is included. Read the full review here.
Pre-order the LWW Blu-Ray Disc
Disney has earned a reputation for releasing the absolute highest quality high definition movies. Ratatouille, Cars, and all three Pirates of the Caribbean films are all considered to be among the best Blu-Rays yet released. Learn more about Blu-Ray Disc, or take the Blu-Ray Challenge.
Thanks to 'Ugly Pig' for the find.