In Touch Magazine Interviews Mark Johnson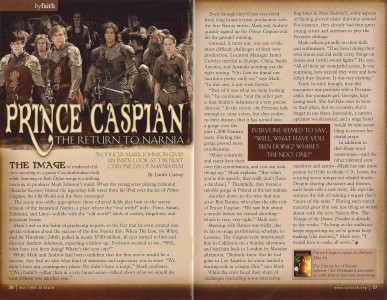 Prince Caspian: The Return to Narnia
by Linda Canup
The image of medieval children standing in a grassy Czechoslovakian field while listening to Bob Dylan songs is a striking memory in producer Mark Johnson's mind. When the young actor playing Edmund (Skandar Keynes) blasted the legendary folk tunes from his iPod over the set of Prince Caspian, the Old World and the New converged.
The scene was oddly appropriate: those ethereal fields play host to the screen version of the fantastical Narnia, a place where the "real world" kids—Peter, Susan, Edmund and Lucy—collide with the "old world" lands of castles, kingdoms, and articulate beasts.
Mark's not in the habit of producing sequels, so the fact that he even created one speaks volumes about the success of the first Narnia film. When The Lion, the Witch and the Wardrobe (2005) pulled in nearly $750 million, all eyes turned to him and director Andrew Adamson, expecting a follow-up. Everyone seemed to say, "Well, what have you been doing? Where's the next one?"
While Mark and Andrew had been confident that the first movie would be a success, they had no idea what kind of attention and expectancy was in store. "We didn't have any contingency plans. We didn't have a script," Mark confesses. "[We] hadn't – other than in a very broad sense – talked about what we would do next if there was another one."
Even though they'd just recovered from long hours in post-production with the first Narnia movie, Mark and Andrew quickly signed up for Prince Caspian and hit the ground running.
Ground, it turns out, was one of the most difficult challenges of their new production. Location Manager James Crowley traveled to Europe, China, South America, and Australia scouting out the right setting. "On Lion we found our locations pretty early on," says Mark. "In this one, it just took forever."
"Part of it was what we were looking for," he continues, "and the other part is that Andrew Adamson is a very precise director." In the movie, the Pevensie kids attempt to cross a river, but they realize, to their dismay, that it has turned into a gorge over the past 1,300 Narnian years. Finding this gorge proved most troublesome.
"Many countries and states have their own film commissions, and you can look things up," Mark explains. "But when you're this specific, they really don't [have a database]." Thankfully they found a suitable gorge in Poland at the last minute.
Another down-to-the-wire find was the actor Ben Barnes, who plays the title role of Prince Caspian. "We saw him about a month before we started shooting—which is very, very tight," Mark says.
Meeting with Barnes was tricky, due to his on-stage performance schedule in London. The Caspian crew interviewed him in California on a Sunday afternoon and had him back in London by Monday afternoon. "Nobody knew that he had gone to Los Angeles, let along landed a starring role in a major film," says Mark.
While the crew faced their share of challenges (including some interesting bug bites in New Zealand), some aspects of filming proved easier this time around. For instance, they already had four great young actors and actresses to play the Pevensie siblings.
Mark reflects proudly on their skills and enthusiasm: "They loved doing their own stunts and did really crazy things on horses and [with] sword fights." He says "All of them are wonderful actors. It was surprising how natural they were and how adept they became. It was very exciting."
Truth be told, though, they did encounter one problem with a Pevensie child: the youngest girl, Georgie, kept losing teeth. She had fake ones to wear in their place, but on occasion, she'd forget to use them. Inevitably, a camera operator would notice, and a stage hand would be sent scrambling to recover her dental props.
In addition to that sharp-eyed cameraman—and the other talented crew members and actors—Mark has one more person he'd like to thank: C. S. Lewis, for creating seven unique yet related books. Despite sharing characters and themes, each book tells a new story. He says this reduces the risk of making a sequel that's "more of the same." Having such varied material gives him one less thing to worry about with the next Narnia film. The Voyage of the Dawn Treader is already in the works. "As long as the audience keeps supporting us, we're gonna keep making [the movies]," Mark says, "I would love to make all seven."
Thanks to 7chronicles for the scan!