Prince Caspian Trailer #2
IGN Movies has your first look at the new trailer for Prince Caspian. The trailer is a compilation of a lot of the TV Spots we've seen already, but of course there are a lot of new shots as well; including several new shots of the night raid, Aslan, and Peter and Miraz dueling.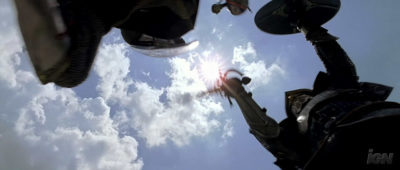 View the screenshots in our gallery here!
The film has also officially been rated PG "for epic battle action and violence."
UPDATE: Trailer now available at Yahoo in HD.
Transcript:
WALT DISNEY LOGO
WALDEN MEDIA LOGO
THREE GRYPHONS CARRYING PEOPLE FLY TOWARDS MIRAZ'S CASTLE
LUCY STANDING IN THE TREASURE ROOM
Lucy: What happened here?
THE PEVESIES STAND IN THE RUINS OF CAIR PARAVEL WHERE THEIR THRONES USED TO BE
ONE YEAR LATER FOR THEM
WIDE SHOT MIRAZ'S CASTLE. ANOTHER GRYPHON SWOOPS IN. HANGING FROM A GRYPHON, CASPIAN ATTACKS A TELMARINE GUARD.
Trumpkin: You may find Narnia a more savage place than you remember.
SHOT OF WEREWOLF. MIRAZ IN ARMOR. MINOTAUR BREAKING INTO THE CASTLE.
1300 YEARS LATER FOR NARNIA
Susan: Who are you?
CASPIAN ESCAPING ON HORSEBACK
Caspian: I am Prince Caspian
SHOT OF THE OLD NARNIANS AT THE DANCING LAWN. CASPIAN RAISING HIS SWORD OVER MIRAZ. SHOT OF THE TREBUCHETS SWITCHES TO TRUMPKIN, CORNELIUS, CASPIAN, AND THE PEVENSIES
Someone: Narnia's about to be annihilated.
SHOT OF MIRAZ IN ARMOR.
Miraz: You were right to fear me.
CASPIAN IN THE WOODS WITH SWORD IN HAND. QUICK SHOT OF PETER
Aslan: Everything you know, is about to change.
WIDESHOTS AND CLOSEUPS OF PETER'S DUEL WITH MIRAZ. FADE TO BLACK. ASLAN IN THE WOODS. TREBUCHETS FIRING. A SHOT HITS ONE OF THE TREES. ASLAN ROARING. CASPIAN UNDERGROUND.
Caspian: CHARGE!!!
PETER AND EDMUND SURROUNDED BY ENEMY FIRE. CASPIAN ON A REARING HORSE. GRYPHON SURPRISES TWO TELMARINE GUARDS.
WALT DISNEY PICTURES AND WALDEN MEDIA PRESENT
HAG WAVES THE WITCH'S WAND OVER HER HEAD BEFORE STABBING IT INTO THE GROUND. AN ICE WALL FORMS. THE WITCH'S FACE CAN BE SEEN.
A MINOTAUR SURROUNDED BY TELMARINES. WIMBLEWEATHER THROWS AN ENEMY SOLDIER. GLENSTORM CHARGES. UNDERGROUND SHOT OF WIMBLEWEATHER.
ASLAN LEAPS OVER LUCY AND UNHORSES A TELMARINE. WIDESHOT OF THE BATTLE LINES FROM AN OVERHEAD PERSPECTIVE.
CASPIAN FIGHTING. ICE WALL BREAKS.
SUSAN, TRUMPKIN, AND THE ARCHERS LET LOOSE WITH A VOLLEY OF ARROWS.
SHOT OF THE RIVER GOD STARTING TO FORM. PETER DIVING IN. SHOT OF GLENSTORM. SHOT OF EDMUND ON THE BACK OF A GRYPHON. WEREWOLF ATTACKS. TREE SNAGS A SOLDIER. WIDESHOT OF THE TELMARINE ARMY. OLD NARNIANS CHARGING OUT OF ASLAN'S HOW. CASPIAN SLAMMING HIS SWORD DOWN.
BRIDGE BREAKING. A TELMARINE ON HORSEBACK STARES AS THE RIVER GOD'S FACE TAKES SHAPE.
PRINCE CASPIAN LOGO
Voice Over: The Chronicles of Narnia, Prince Caspian
BUY INDIVIDUAL OR GROUP ADVANCE TICKETS NOW AT DISNEY.COM/NARNIA
MAY 16
FADE TO BLACK