Report From New York Comic Con
This year at the New York Comic Con, William Moseley, Ben Barnes, Peter Dinklage, and producer Mark Johnson held a Q&A for Narnia fans after the showing of the Theatrical Trailer. NarniaWebber Rae went to the event and sent in this report:
Hello, this is Narniawebber Rae here, and this weekend I attended the Comic Con in New York City. The presentation was held in a theater that fit 3,000 people and with massive screens and stereo systems, I got there 45 minutes early, so I was in the third row!
First up was Wall-E….really cute clips, really cute movie. I enjoyed it immensely. I'll have to check that out when it comes out. My mother really enjoyed it, too.
Now for the good part: Prince Caspian. The first thing we got to see was the new footage…and it was the long awaited Theatrical Trailer! We were shown it once in the beginning and once at the end. Really cool trailer. They said that we were the first audience to see it, and that it would premiere with Ironman, and they hinted at an online release in the near future, so keep your eyes out for that. One site reported that it was old footage, which it most definitely was not, though it did recycle some footage from the TV spots and the AiN's, but there were new clips. The opening especially was quite dramatic. Some new shots included:
~Peter jumping off a rock to attack Miraz
~Aslan jumping and attacking a Telmarine on Horseback to protect Lucy
~more shots of the gryphons at the Night Raid
~Tree moving at the battlefield
~new shot of the ice breaking…I think you may be able to see Edmund throwing something at it, but I'm not sure.
~A shot of the Pevensies, Caspian, and Dr. Cornelius in front of the how (I believe it is directly after the Night Raid)
~An awesome shot of the River God holding the bridge…really cool.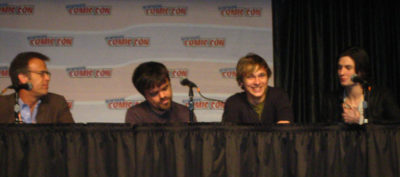 Again, this trailer has some recycled footage, and the lines are the ones we've heard "Who are you?" "I am Prince Caspian" "You were right to fear me…" etc, but I do believe there was one new line…and I forgot it. Doesn't that figure. Remember: This trailer will premiere with Ironman, and there will probably be an online release.
Next, it was time for the panel! They were incredibly entertaining, I found myself laughing many, many times. To see them in person was a dream come true. The audience asked them questions, and they responded. Here are a few questions that were asked with the general response:
~First, the question was asked how this movie was different. Moseley answered, saying mostly what we already know: darker, "raw" (I believe something along those lines of what he said) and more adult. He also said that the first film was more of a "Children's Narnia."
~The next question was about if the actors were big fans of the books. Barnes answered this one, saying how he found his old copy of Narnia with his name in his 8-year old handwriting.
~The next question I believe was about the action. Moseley answered this one, elaborating on his horse stunt.
~The next question was about the future movies. Producer Mark Johnson said that VodT was next, and that they didn't have any plans past VoDT, but that they would do Silver Chair if the movies were still making good money. So the future of these movies depend on us, the fans.
~Next Question was about Moseley coming back. (This question may have been earlier…but oh well!) Moseley again talked about how it was different for him, because the first movie was his first, and the darkness.
~Next Question was for Barnes, asking him about his first major role. Barnes talked about his first day he was literally "dragged into things"…his first day of shooting was him being dragged by a horse.
~Next Question was about Peter's character, so naturally Moseley answered this one, and pretty much affirmed the fears of Peter being arrogant. He says that "Peter went from being a reluctant hero, to a hero who is (I forget the exact quote, but something along the lines of…) only does what he thinks is right, and only listens to himself. He then says the quote, "Peter has a large ego, small mind." He says that Peter doesn't really learn until after a horrible failure (my guess is the Night Raid) where both Caspian and Lucy tell him about it. It's after that he finally "moves on as a character."
~Next Question is the elaboration of the Peter/Caspian fight: Barnes answers a bit, saying that "Peter and Caspian are also trying to prove each other to themselves." Moseley said an interesting quote (I think it was him, might have been Barnes): "It's more a conflict of strategies (something along those lines) not exactly a conflict of the characters themselves." Both said that it made the movie more interesting.
~Next Question was about inspiration. All the actors were joking around with this bit. Moseley said his inspiration was Barnes, Barnes said his inspiration was Peter Dinklage, and Dinklage said his inspiration was himself.
~Last Question that I can remember: Dinklage…we hadn't seen much of Trumpkin. Basically Dinklage talked about his makeup and what he went through to become Trumpkin.
*Note: I don't think the questions are in the right order, they're in the order of what I remembered first..
Thanks Rae for sending in this report!
UPDATE: Quinlin's Report
Hello everyone! It's Narniawebber Quinlin! This is another report from the Prince Caspian event at Comic Con.
I'll try to make this short with as many of the details that I can remember.
So after standing in line for about an hour and a half, my mum and I finally got third row seats in the IGN theatre where the event was to take place. After anxiously waiting for the end of the Wall-E screening (adorable film by the way), the lights dimmed and the Prince Caspian trailer began. The trailer was so amazing. I remember I got goose-bumps watching it.
Narniawebber Rae has already mentioned almost everything I remember in her spy report, so I won't bother restating it, but here are a few things I remember.
~Caspian being dropped from a gryphons grasp onto a stone paved tower and slashing at someone with his sword
~The White Witch disappearing behind a rising wall of ice
~Aslan twisting through the air(that's when he was protecting Lucy)
~A horse rearing as the River God lifts the bridge(I think it might have been Caspian on the horse)
~Gryphons flying over a huge battlefield
~A new shot of the Pevensie's at the ruins
Overall the new trailer was fascinating! I loved it!
Then came the moment I was waiting for, to see the actors in real life. Ben Barnes was introduced first, then William Moseley, then Peter Dinklage, and Producer Mark Johnson! I found it hard to believe that I was actually sitting there only several yards away from them!
The Q & A period was a lot of fun! I got up and asked William what it was like to return to the Narnia set again and how he did his horse stunts. He answer very enthusiastically describing everything with a lot of hand gestures! The video of his response is the one labeled ~William on the Experience~
Once again, Rae has kindly provided us with a list of the other questions asked so you can refer to her spy report for those!
After the questions they showed the trailer one more time, but this time I wasn't watching. I had made my way in the dark to the stage hoping to catch Will or Ben for an autograph before they left. After managing to squeeze through the press photographer's, I found myself less than a foot away from William! He and Ben were standing at the edge of the stage and had stopped to watch the trailer. They were laughing and joking around. When the lights came up though, I didn't have time to ask them for an autograph as they were
quickly rushed off stage.
Even though I didn't get an autograph, it was still the experience of my life!
But what I thought was the end was really only the beginning!!!
My mum and I made our way out to the lobby as I scanned for any sign of the actors. There was a door that was slightly ajar near theatre. As I looked that way I suddenly spotted Ben Barnes and dashed into the room. I found myself in a room with press people working on their computers and paying no attention to anyone. Ben Barnes was nowhere to be seen. I stopped right before a table, and after catching my breath realized that the person standing in front of me was William Moseley! He signed my Prince Caspian book and we talked for about a minute. He was so adorable! Never in my life did I imagine I would be talking to William! He was then called away for a press meeting and was stopped in the lobby for some photographs. Then he went into another room for press conferences.
The next thing I knew was that I was in a small room with William, Peter Dinklage, Producer Mark Johnson and a bunch of press people. That was it! I stood there quietly by the door listening to Will and the others being interviewed.
After about twenty minutes of standing there, the door suddenly opened and someone bumped into me. As he apologized I turned my head towards him only to realize that it was Ben Barnes! He also signed my book!
I could never have dreamed for something like this to happen! It was one of the most amazing moments of my life!
Thanks for the report Quinlin !
UPDATE: Here are some low-quality videos from the NY Comic-Con that have found their way online (you may have to sit through an advertisement first). One of the most interesting bits is Mark Johnson saying that the movie will be finished "sometime next weekend." Ben also says he does not actually say the now famous line "I am Prince Caspian" in the way the trailer indicates (see the 9:14 mark of the video below).
Mark Johnson & Ben Barnes
William Moseley & Peter Dinklage
William on the stunts
William on the experience
Ben on his first scene
Thanks to Reepi for finding the videos.