'Caspian' Adds $3.6m Internationally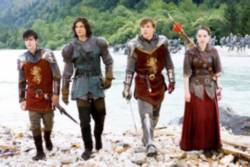 The Hollywood Reporter writes:
Disney's "The Chronicles of Narnia: Prince Caspian" hiked its international gross to $253.7 million (versus $141 domestically) with a $3.6 million weekend from 2,925 screens in 31 markets."
This brings the film's worldwide total up to an estimated $394.7m. Box Office Mojo has not updated its numbers yet, but this should put it in the top 100 worldwide grosses of all-time. The film hits theaters in Italy this Thursday.
Thanks to 'GlimGlum' for the find.
(Still waiting for an official announcement on the DVD/Blu-ray release…)