Another Round of Set Photos from Cleveland Point
SpringHillVoice.com has made another trek down to the Cleveland Point filming location for The Voyage of the Dawn Treader and has posted a new round of photos on their website.
Perhaps one of the more interesting pictures is the sign at the location stating the exact dimensions of the Dawn Treader.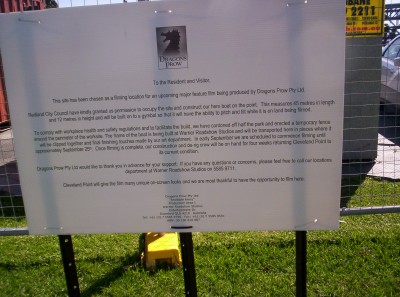 The sign reads: "To the Resident and Visitor.
This site has been chosen as a filming location for an upcoming major feature film being produced by Dragons Prow Pty Ltd.
Redland City Council have kindly granted us permission to occupy the site and construct our hero boat on the point. This measures 45 metres in length and 12 metres in height and will be built on to a gymbal so that it will have the ability to pitch and it will be clipped together and final finishing touches made by our art department.
In early September we are scheduled to commence filming until approximately September 25th. Once filming is complete, our construction and de-rig crew will be on hand for four weeks returning Cleveland Point to its current condition.
Dragons Prow Pty Ltd would like to thank you in advance for your support. If you have any questions or concerns, please feel free to call on our locations department at Warner Roadshow Studios on 5585 9711."
Here is another shot of The Dawn Treader under construction.
You can check out the rest of the pictures at SpringHillVoice's website here.
Thanks to icarus for the heads up!