The Dawn Treader Being Built at the Spit?
According to GoldCoast.com.au, the secret is out as to where the ship, the Dawn Treader, is being built in Australia for The Voyage of the Dawn Treader. From GoldCoast.com.au:
The Gold Coast's worst-kept secret has been confirmed with a set for the third movie in The Chronicles of Narnia franchise being built at The Spit.

Believed to be a fake ship, the set gave away the 'secret location' Narnia movie executives have been so tight-lipped about.

The project has been shrouded in secrecy. It is either going to be called Invisible Army or Dragons Prow with both phrases featuring at the site yesterday.

The film company is also called Dragons Prow Productions and one of the signs at the site featured the logo as well as the words 'Invisible Army Production Area 1'.

Location manager Gareth Price refused to confirm if it was for The Chronicles of Narnia.

He said people would soon be able to see what was being built.

Construction began on June 16 and it's believed it will continue until mid-August when filming will start.
Speaking of the filming start date, I received several emails yesterday asking where the July 15th date came from after we reported that it was ten days until filming starts. It surfaced here, on the casting call two weeks ago that we reported on. And considering the casting call was written by the production and is recent, this date is most likely correct. In our opinion, filming will start on July 15, but it will probably be the part of the movie introducing Eustace, Edmund, and Lucy in our world before they enter Narnia. The mid-Austust start date mentioned above is probably when they'll start shooting aboard the Dawn Treader.
Read the full story at GoldCoast's website here.
UPDATE: Daredevil has posted a link that has a picture of the actual sign at The Spit.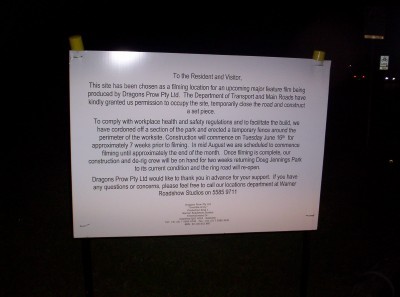 Here's what we think it says:
"To the Resident and Visitor,
"This site has been chosen as a filming location for an upcoming major feature film being produced by Dragons Prow Pty Ltd. The Department of Transport and Main Roads have kindly granted us permission to occupy the site, temporarily close the road and construct a set piece.
"To comply with workplace health and safety regulations and to facilitate the build, we have cordoned off a section of the park and erected a temporary fence around the perimeter of the work site. Construction will commence on Tuesday June 16 for approximately 7 weeks prior to filming. In mid-August we are scheduled to commence filming until approximately the end of the month. Once filming is complete, our construction and de-rig crew will be on hand for two weeks returning Doug Jennings Park to its current condition and the ring road will re-open.
"Dragons Prow Pty Ltd would like to thank you in advance for your support. If you have any questions or concerns, please feel free to call our locations department at Warner Roadshow Studios on 5585 9711."