12 New Photos: Reepicheep On Set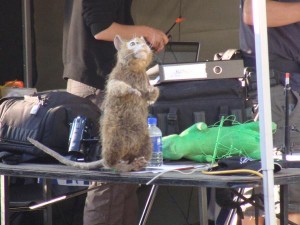 Twelve more pictures are up at MundoNarnia.com, including a shot of Reepicheep's stand-ins. My guess is that the more realistic stand-in is used for lighting reference, and the green one is what the actors interact with during the scenes. In post-production, the green stand-in will be erased, and then replaced with a computer-generated character (voiced by Eddie Izzard). Green and blue are often used for this because these colors are considered to be the "furthest away" from human skin tones, and so are easier for the computer to isolate and erase.
This first sighting of Reepicheep on set should excite fans, since his role in "The Voyage of the Dawn Treader" is what made him the fan-favorite of the series.
Most of the photos show Ben Barnes talking to the crowd through the gate, and if you look at the bottom/right corner of one of them, you'll see Douglas Gresham (co-producer, C.S. Lewis' stepson).