Dawn Treader Filming Report from Tamara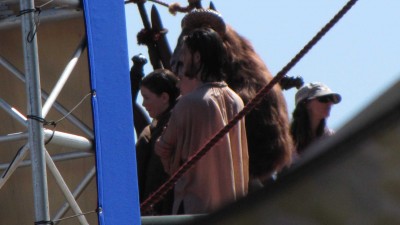 NarniaWeb spy Tamara returned to watch the filming earlier today, and this time, she returned with a "totally awesome camera." Along with taking pictures of the extras and crew, set, she also managed to capture a few shots of Ben, Skandar, and Georgie on set.
I went back to the Narnia set again today, armed with a borrowed, totally awesome camera (with 20x zoom!! arrrh love!) and around 3 hours to spare 🙂

There was a massive blue screen hanging by a crane in front of the ship so no one could see anything! There was this very small gap in which you could see some of the crew walking around but there was no way to see any of the actual filming. They moved the ships direction after about an hour and a half which gave us some more space to see but it was still very small.

I had no idea if any of the main actors where there as we could still see nothing! I did see all their chairs lined up with their names written on them, but unfortunately they were empty. But about 2 and a half hours in, I finally saw Ben Barnes, Skandar Keynes and Georgie Henley doing a scene where they all looked to be drenched. I could be wrong but I could only see it through the camera as they were wayyyyy to far away to see it with my eyes only. There were people constantly spraying them with water as well.

There was a voice (with an american accent haha I have no idea who it was) who was obviously attached to a mic and would occasionally give directions and I definitely heard him talking about Reepicheep (he had just done something and they had to react.. I think..) and there was also something about a wedding dress.

I am going back again tomorrow (because I have no life haha – no really I think it's super exciting) and maybe they'll have moved the blue screen!
Here are Tamara's pictures (we've also included one from RedBubble.com of Gary Sweet who plays Drinian).
Thanks so much Tamara for your report and pictures!
UPDATE: NarniaFans' spy Tanika sent them a set of pictures from earlier today as well. You can check them out here.