New Dawn Treader Filming Report
Narnia Web member ellz_bellz visited the set and sent in this report: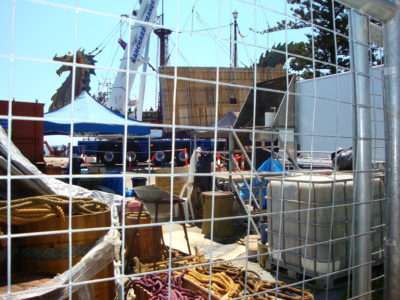 UPDATE: You can view her pictures here.
I took a trip to the set today, and was absolutely AMAZED by what I saw. First, as we pulled in on the Shuttle Bus, there were about fifty locals watching, and a few pressed up against the fence. Overshadowing them all was the Dawn Treader herself. You really have to see it to appreciate just how beautiful it is. They were in the process of filming a scene were a dragon lands on the mast.

The Crew were armed with TELMARINE crossbows (I could recognise the eagle head), and were instructed to fire at the dragon. They all wore Telmarine style shirts and vests, and some wore beanie-like caps. Amoung them all was one black minotaur (Shane Rangi?) and a Faun that I remembered from Prince Caspian. I caught a glimpse of Ben Barnes, wearing a shirt similar to his cream shirt in PC, with black pants.

Jeff "O" (I can't spell his second name) is the man who we have been hearing over the loudspeaker, not Michael Apted, as first thought. I got some great footage of the boat rocking from side to side, and the crew scrambling all over it. Jeff O started each take with "Rolling!…And he's landing on the mast! What he doing up there!?…Fire at him, You're firing at him, and…HIT! And he's falling, he's in the water!…And he's back up again, he's cricling the ship, he's at the front, he's t the front, and he's off, back to island, and he's gone… Cut"

We met a few people on the way. I saw the doubles for Ben, Georgie, Will and Skandar. I didn't see Georgie or Will, but my sister was pretty sure she spotted Skandar chatting with Michael Apted while I was away.

While I was checking out the crew with my binoculars, one of the guys spotted me, and aimed his crossbow at us. I pulled out a sign my friend and I had made that said "YAY" and held it up, He laughed and gave me the thumbs up.

I noticed that there was a small girl (8 or 9) walking around et. SHe was dressed like a telmarine, and had her hair done "Narnianish".

But, the most incredible thing that happened was when we were heading back fromlunch, we spotted none other than DOUGLAS GRESHAM himself. I had seen him walking around set, and had a bit of a freak-out. But he quite literally just strolling around the open area, out of the gates, in his trade-mark high pants and cap. I immediately walked up to him and asked if he was Douglas Gresham (even though I was sure he was). He looked so surprised on being recognized, but replied that he was. We then asked for a photo and stopped for a chat. He was SO NICE, talking to us like we were good friends, and informed us that the set looked fantastic, and that they were ahead of schedule for the day. We then asked if the dragon "attacking" the boast was Eustace, which confirmed was (he looked even more suprised by the fact we knew what was going on!). After saying good bye and skipping off, I realised that My camera hadn't captuured our photo. I ran back, and asked for another photo, we he instantly agreed to. He then asked for our names, and said it was very nice to meet us. All in all, a lovely man.

Most of the videos I took have me talking through them, but there are a couple of good ones. I'll include then one were I first spot Doug, and freak out.

I will advise all people in the area to go check it out!