The Future of the Dawn Treader Ship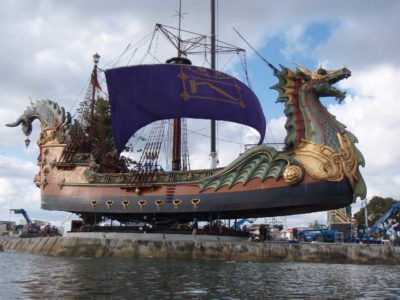 Now that filming has completed at Cleveland Point, many are wondering what will become of the gorgeous ship, the Dawn Treader. GoldCoast.com.au has a story on it.
It took crews more than two months to assemble the immaculate Dawn Treader ship on location at Cleveland.

Mr Malik said once filming was completed, it would be stripped down and shipped back to the Coast.

"It will be put back together inside one of the stages because we need it for sequences that will have it surrounded by a blue screen.

"We still have to shoot a storm sequence and an attack sequence with it.

"Then what happens to it after filming entirely? Well, that's the million-dollar question. I'll say one thing: it won't be scrapped."

Filming of the blockbuster officially reached the halfway mark today and is scheduled to finish ahead of its November wrap date.
So there you have it. The Dawn Treader will head back to the Gold Coast (which we knew) and be rebuilt inside the studios (which we didn't know) and then after that, its fate is undetermined, but it won't be scrapped!!
You can read the full story here at GoldCoast.com.au.