Dawn Treader Article in Empire Magazine
NarniaWebber AJAiken sent us a copy of an article from Empire Magazine previewing The Voyage of the Dawn Treader.
Transcript from scan:
The Chronicles of Narnia:The Voyage Of The Dawn Treader
LOCATIONS: Queensland, Australia; Baja, Mexico
TALENT: Michael Apted (director), Ben Barnes, Will Poulter
RELEASED: December 10

A great deal has changed in Narnia. After Disney dumped the franchise, the series looked all but washed up until 20th Century Fox came to the rescue.
"It was a bit of a blow," says producer Mark Johnson, speaking on the Brisbane set, hours after it's been hit by the worst sandstorm in Australian history. "But everybody came after us once we weren't with Disney. Everyone … "
Did Disney jump ship too soon? Regarded as the best of the series, Dawn Treader picks up several years after Prince Caspian; Edmund (Skandar Keynes), Lucy (Georgie Henley) and brattish cousin Eustace (Son Of Rambow's Will Poulter) arrive in Narnia aboard the titular Dawn Treader, captained by King Caspian (Ben Barnes), questing to find the seven lost lords of Narnia. Where the previous films had talking beavers and angry trees, this has battles at sea, monsters of the deep and a great big dragon.
"The potential is thrilling," says helmer Michael Apted. "It's a wonderful adventure mixed with fantasy." For the sake of the remaining four books, Fox will be hoping that potential (creative and business) is fulfilled.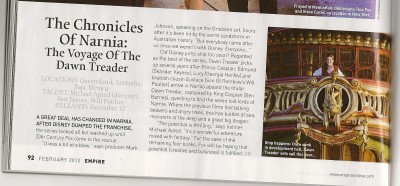 Thanks AJAiken for the transcript and the scan!