Empire Magazine (Australia) Talks Dawn Treader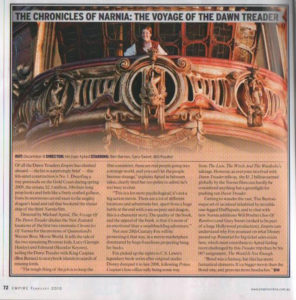 NarniaWebber White Wizards informs us that the Australian version of Empire Magazine also has an article on the upcoming films of 2010, which includes The Voyage of the Dawn Treader. However, this is not the same article we reported on a few days ago. It includes one spoiler in a quote from Michael Apted.
White Wizard writes:
The most interesting bits are a quote from Apted and the cost of the Dawn Treader ship, which was $2.3 million. I have never read this quote from Apted but it is quite interesting:

"This is a lot more psychological; it's not a big action movie. There are a lot of different locations and adventures but, apart from a huge battle at the end with a sea serpent and a dragon, this is a character story. The quality of the book, and the appeal of the book, is that it's more of an emotional than a swashbuckling adventure."
There are definitely a lot of positive lines here, like "not a big action movie" and "a character story." But I'm sure that the bit that will leave everybody talking is the line "a huge battle at the end with a sea serpent and a dragon." Is this dragon Eustace? If so, did they move Dragon Island to the end of the movie? Or just the bit where Eustace turns back into a boy? Only 11 months of speculating to go!
Thanks to White Wizard for the report!
UPDATE: White Wizard has provided us with the transcript of the article. It can be seen on our forum here.