World Magazine Article on the Dawn Treader – Don't Panic!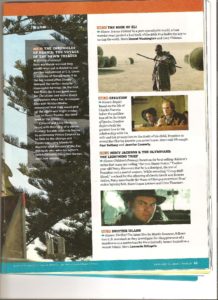 We've received a couple panicky spy reports over the latest World Magazine article.
The article reads, "Fans worldwide worried they would never get a chance to see another installment of C.S. Lewis' Chronicles of Narnia make it to the big screen after Disney dumped the series—despite impressive earnings for the first two films. So it was good news for Christians and movie lovers everywhere when Fox, in conjunction with Walden Media, announced they would pick up the rights and begin production on Dawn Treader, the third book in the series.
Edmund and Lucy Pevensie, along with their prig of a cousin Eustace Scrubb, return to Narnia to accompany Caspian as he sails to the strange and mysterious Lone Islands to discover what became of the five lost lords who were his father's faithful friends. Stars Ben Barnes and Liam Neeson."
We are quite certain this is just a typo as every other summary includes all seven Lords, as well as having received photographic evidence that includes all seven Lords as well.
As one example, the close-up of the bell on board the Dawn Treader being carried by fauns shows at least six Lords from different angles and clearly enough room for the final seventh Lord.
Unless we hear otherwise from the production, all seven Lords should be in the movie.
Thanks to Jordon and Eustace for the heads-up!