Interview with Jeff Okabayashi – Adventures of an AD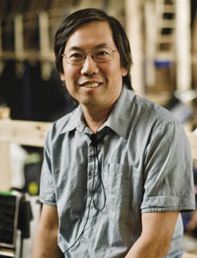 DGA [Director's Guild of America] Quarterly has posted an interview with Jeff Okabayashi where he mentions a tiny bit of his work on Dawn Treader.
The Voyage of the Dawn Treader marks the first time Okabayashi has worked as a 1st AD [assistant director] from prep to wrap. "I think the biggest change from 2nd AD to 1st is that as the 2nd I was the executor of the plan; as the 1st I create the plan.

"Last Friday was the big storm sequence on the ship," Okabayashi explains with a boyish glee. "We're talking rain, mist, violent winds, and dump tanks and water cannons for waves, which all have to be created at an exterior location without real storms or weather taking us out. The actors, kids, stunts and background are all on the ship, which is 20 feet above ground on a gimbal that rocks the boat so hard the performers have to be harnessed so they don't fall off. You just have to sit back and think, 'Wow! That was really cool.'"
Okabayashi has worked on all three Narnia films
as the first assistant director on The Voyage of the Dawn Treader and the second assistant director for The Lion, the Witch and the Wardrobe and Prince Caspian.
The full interview is available on DGA Quarterly's website here.
Thanks to icarus for the heads-up!