Dawn Treader VBS Curriculum Delayed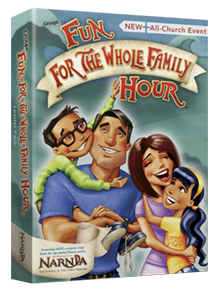 Last month we told you about Group Publishing's Fun-For-The-Whole-Family Hour package that would include exclusive clips of Dawn Treader footage. The package was to be available on June 1 and then was pushed out to June 30. We're received word that the date has been pushed out again and will now begin shipping on August 16.
In an email sent to those who pre-ordered the package, Group Publishing writes:
As you know, this product incorporates never-before-seen movie clips from the upcoming Chronicles of Narnia movie "The Voyage of the Dawn Treader", scheduled to release in December of 2010. Since there is so much excitement about this movie, and such devoted Narnia followers, the film makers have asked us to keep our product out of circulation so the movie clips don't end up online.
This is unfortunate because most Vacation Bible School programs are wrapping up by August 16 so the program may have limited effectiveness.