Italian Narnia Fans: Win a Trip to Sail on the Dawn Treader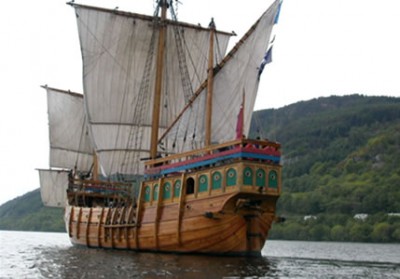 If you are from Italy, boy do we have a story for you. National Geographic and Fox are teaming up to give two lucky winners (one between 12 and 16 years old) a five days trip aboard a replicated Dawn Treader sailing from the Atlantic Ocean to the English Channel around the United Kingdom. We assume this ship is the historic ship 'Matthew' that we reported on last month.
Here is the original story in Italian, but we have a loose translation in English below.
Rome, July 12, 2010 – Even National Geographic Channel supports the launch of the third episode of The Chronicles of Narnia: The Voyage of the Dawn Treader, 20th Century Fox that will bring in Italian cinemas on December 10. And it does so with the summer edition of Live Curious Experience: the competition for National Geographic Channel that allows the public to experience first hand the spirit of the channel that always tells the news, exploration and science inviting the public to open up new horizons.

To be won five days aboard a galleon playing Dawn Treader, the ship's third episode Chronicles of Narnia. Waiting for the two winners (one of them will be a young person between 12 and 16 years) an adventurous journey around the most beautiful coasts of the United Kingdom, rising from the Atlantic to the English Channel during which he will learn the techniques of sailing and compare it to games and competitions inspired by the movie to conquer the "seven swords." The winner will be followed by the cameras of Sky channel 402 and become the protagonist of pills short broadcast on National Geographic Channel in the coming months.

The competition is simple. Saturday, July 21 at 21:10 National Geographic Channel offers Live Curious: Ghost Ship Enigma a documentary related to the small island of Saba in 2006 where he was found mysterious boat. Discover the secrets of the strange ship, a team of divers accompany us through the wonders of a beautiful paradise whose existence is threatened by man.

Will be sufficient to watch the program and answer the question that will overlay. The viewer will have to enter the site www.livecurious.it code game received the correct answer and may participate in this way the prize draw.
There is no word yet as to whether or not this competition will be offered to other countries besides Italy, but we'll definitely keep our eyes and ears open for any more news on this!
Thanks icarus for the heads up!