No Narnia at Comic-Con?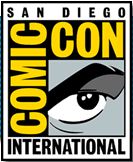 The 2010 Comic-Con program schedule has been fully released today and there is an absence of anything Narnia related. Well, not completely. Barry Robison who is the Production Designer for The Voyage of the Dawn Treader will be part of a panel discussing production design in TV and movies.
1:00-2:00 Motion Picture and Television Production Designers— Motion picture and television production designers might take us to a 1930s prison break, a '50s drag race, a '70s disco, or even today's Comic-Con. Or, like this year's panel, they'll take you to unknown worlds that beggar the imagination—fully realized worlds with alternate architecture, interior design, cars, weapons, and more. In collaboration with a multi-person, highly skilled art department, they will conceive, hire, supervise, and even try to stay on budget as they create whole new worlds of the imagination. Panelists include moderator John Muto (Terminator 2: 3D), Mimi Gramatky (10,000 Days), Barry Robison (The Chronicles of Narnia: The Voyage of the Dawn Treader), Kirk Petruccelli (Blade), and Oliver Scholl (The Time Machine). Room 32AB
The other place where there might be something for The Voyage of the Dawn Treader is at the Fox Home Entertainment booth, where in the past, Disney/Walden booths have handed out bookmarks and tote bags and things like that for The Lion, the Witch and the Wardrobe and Prince Caspian. So it may very well have some Narnia paraphernalia available there.
But it looks like we're out of luck hoping for any new footage or interviews with the actors and crew members.
Anything and everything Comic-Con related can be found the official website here.
UPDATE: icarus also pointed out on the forum that HarperCollins will have a booth at Comic-Con as well. Another place to keep an eye open for something Narnia related.
UPDATE: It looks like Isis Mussenden and Oksana Nedavniava will be appearing (thanks to icarus, once again):
Costume Designers & Costume Illustrators: Designing For Feature Films
Michael Wilkinson, costume designer, Jonah Hex, Tron Legacy; Phillip Boutte Jr., illustrator, Jonah Hex; Christine Bieselin Clark, co-esigner, Tron Legacy; Isis Mussenden, costume designer, Narnia; Oksana Nedavniaya, illustrator, Narnia.
Saturday AA1 2:00 pm – 3:00 pm