First Look at the Matthew as the Dawn Treader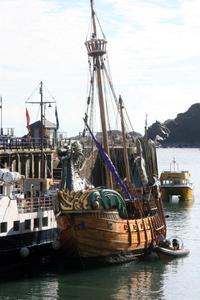 From IlfracombePeople.co.uk:
Visitors to Ilfracombe Harbour this morning were greeted by the spectacular sight of the ship from the upcoming film The Chronicles of Narnia: The Voyage of the Dawn Treader.

A visitor to the town told Ilfracombe People "I love the Narnia stories and when I saw the boat in Ilfracombe Harbour I was really impressed and excited. It was such a lovely surprise and has really made my day-I felt like I'd been transported into the novel!"
The ship and its crew are sailing from Ilfracombe to Falmouth for the Narnia Weekend event on August 28th. It also appears that its final destination is London according to this article from ShipShapeBristol.co.uk (the link is a pdf).
The full article with more pictures can be found here.
Thanks to icarus for the heads-up!