Narnia.com Unlocks the Magician's Island
Narnia.com has updated this morning. You can now sail your Dawn Treader ship and land on the Magician's Island. Once you disembark, a new screen appears with Caspian, Edmund, and Drinian surrounded by invisible Duffers and Lucy off in the distance.
As you click around on the page, you'll see some of the Dufflepuds show up and the doors to the Magician's House will also appear, open, and Lucy enters.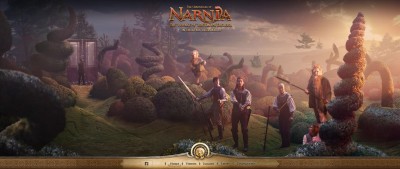 If you click on the Dawn Treader in the background, it will allow you to download the image, but there's a giant thing of sparkles in the middle of it so hopefully that image will be cleaned up later!
There's are a few other tidbits here and there that we didn't mention so head on over and check them out!
Thanks starkat for the heads up!