'Dawn Treader' Feature in SFX Magazine
NarniaWebber icarus writes:
The November issue of SFX Magazine which was released today, contained a brand new photo from The Voyage of the Dawn Treader! The picture was included in a regular feature they run called "Big Shot", which as the name suggests is a big photo from a movie, blown-up over a double page spread, with various annotations added explaining what is going on.
The VDT picture they have this month is a shot of a small skirmish between Edmund and Lucy (and possibly Caspian, though he can't actually be seen in the photo) and some of Gumpas' men situated in the Bell Tower Set. Here is a photo of the magazine pages so you can see: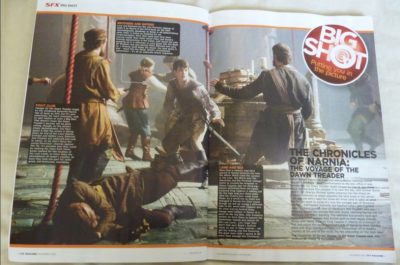 You can read the rest of icarus's report on our forum here (which contains several more potential plot spoilers).