Narrowhaven Now Available on Narnia.com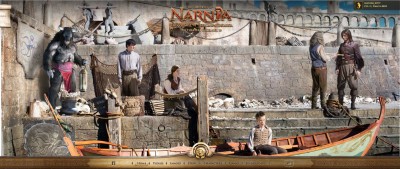 MundoNarnia has discovered that Narrowhaven is now available on Narnia.com. While you can't sail there yet (it appears to still be under construction), you can get to it through the direct link here.
There's a cool new background image with what is likely our first look at Lord Bern (well, his back that is) handing Caspian a sword. Hmm.
In the future, clicking on the lantern that the Minotaur is holding will allow you to download the image as a Wallpaper, though that doesn't seem to be working right now.
Four more magical points can be found.
Probably within the next couple days, everything will be working on this page, but it's nice to get a sneak peek of it!
Thanks to icarus for the heads up!