New 'Dawn Treader' Article in Empire Magazine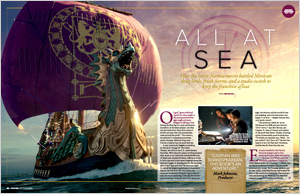 The October issue of Empire Magazine features a very interesting article about "The Voyage of the Dawn Treader." You won't find any juicy spoilers or anything, but it's definitly a great read. It covers the entire production, including stories of a difficult pre-production period that started even before Disney left.
A huge thanks to NarniaWebber 'icarus' for transcribing the article!
Read it here.
A few highlights:
"It definitely shook us [when Disney dropped out]," remembers producer Mark Johnson of the moment the series seemed to have breathed its last. "You wonder, 'Is anyone going to want us. Will we find the right place?' It was certainly a blow."
…
"[Looking back on Caspian's lower box office] you can't say it wasn't sold right or we picked the wrong release day. You have to look within the movie itself," says Johnson. […] "I think it was probably the book Prince Caspian. It's less about the Narnian creatures and more about this sort of Shakespearean story about Caspian trying to find out who killed his father. This book is a great adventure. It's lots of islands where they just keep getting attacked!"
…
The Dawn Treader that arrives in Cinemas in December won't be the version originally planned. In the three years since Apted first came on board, the film has been through countless re-writes, traveled to more locations than even the story's fantastical voyage can manage, and found a whole new home.
Icarus adds: "'All At Sea' is a common English saying, meaning to be in a state of "confusion and disorder.'"
Less than 100 days to go, NarniaWebbers! (When was the last time you read The Voyage of the Dawn Treader?)