France's "One" Interviews Ben Barnes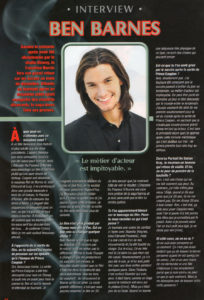 BenBarnesFan.com was sent a scan from the French magazine One where they interviewed Ben Barnes about his role of King Caspian in The Voyage of the Dawn Treader.
What can we expect from the third film?

It's a much more mature and adult film than the two previous ones. The magical aspect that you all know hasn't been left out, but The Voyage of the Dawn Treader is an adventure film rather than a pure work of fantasy. Caspian is now the new King of Narnia and, with Edmund and Lucy, he embarks on a great crossing aboard this boat, the Dawn Treader, to find the land of Aslan. So most sequences take place on the sea, which hasn't been easy to film. In Hollywood, it's often said that filming on the water is the most painful of all .. I agree! [laughs] But I enjoyed myself very much ..

With the release of the film approaching, do you now feel less pressure on your shoulders than at the time of Prince Caspian?

Yes, a lot less. The release of Prince Caspian was very stressful for me because Disney had put forward the film's promotion and everyone was waiting for me at the release. I really feared the reaction of the public and fans, I didn't want to disappoint anybody. Today, I have three or four years more experience and I've learned to handle that pressure. I think I'll tackle the release of this film with much more serenity.
You can read the full article on BenBarnesFan.com.