Ben Barnes Discusses 'Dawn Treader'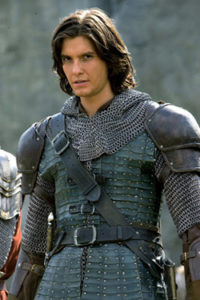 NarniaWeb member Lover of Narnia alerted us to a new audio interview with Ben Barnes. Jo Parkerson from LBC Radio sat down to talk with Ben about his appearance in the play Birdsong, but there is also discussion of the Narnia franchise and the upcoming Voyage of the Dawn Treader film.
The topic switch to The Chronicles of Narnia: The Voyage of the Dawn Treader comes a little over 10 minutes into the interview. Ben reports that he will most likely be on the red carpet for the premiere, but will still be performing Birdsong that night. He will attempt to make a return trip to the premiere afterparty once the performance of Birdsong is finished.
Ben also discusses his role in the action scenes from Prince Caspian and Dawn Treader. He indicates that while there is less action in the latter film, he is more personally involved in it than in his previous jaunt to Narnia. Ben also mentions various sundries such as falling down rooftops and a scene involving King Caspian forced to fight foes with a pair of handcuffs, referring to it as an "archaic Jason Bourne" scene.
The interview runs about 15 minutes and may be found here.