ComingSoon.net Interviews Georgie Henley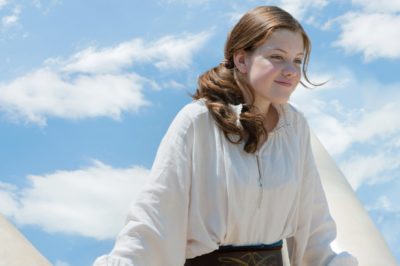 Hot on the heels of ComingSoon.net's interview with Ben Barnes, they have posted an interview with Georgie Henley!
ComingSoon.net: What's it like coming back to Narnia for the third time?
Georgie Henley: I think it's great. I'm so excited to be here. It's my favorite book in the series. I was really excited when I realized I was coming out here. It's a bit different, but I think change is good.

CS: Different how?
Henley: Well there's a new director, Will and Anna aren't here and a new addition to the cast, Will Poulter who plays Eustace, and we're not shooting in New Zealand, we're in Australia. Just things like that.

CS: What is the difference between working with Michael Apted verses Andrew Adamson?
Henley: I don't think you can really compare the two. They're completely different directors and I think they've both got great styles. I think it's really good that we all get along with Michael really well. I love Michael. He's fantastic. What he's doing with the film is brilliant. I really admire Andrew and think he did a great job on the other two films. I just think this film is not going to be not better or not worse but just different.
You can read the full interview with Georgie on ComingSoon.net's website here.
Thanks to 7chronicles, A_Narnian_Ship, and Narnian_Maniac for the heads up!