Harper Collins Creates Narnian Gift-Giving App
Harper Collins' Facebook page now has a downloadable application which allows users to send gifts to their friends and family. The gifts appear to be mini badges, each depicting scenes from the stories, and displaying the original Pauline Baynes illustrations.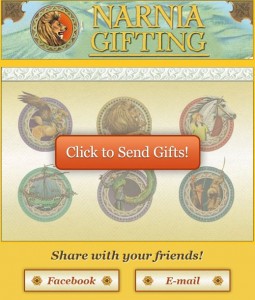 Badges include the following images:
Digory and Polly on Fledge
The lamppost
Shasta and Bree
A sword brandishing Reepicheep
The Dawn Treader on the high seas
Rillian fighting the serpent
A Calormene with a drawn scimitar
Aslan
More badges seem to be able to be unlocked after users use the application for some time
The Facebook application can be found here.
Many thanks to The Bulgy Bear for the heads up.