New Snowy Aslan Banner and Poster
I'm sure most everyone has seen the cover of The Voyage of the Dawn Treader soundtrack by now featuring Aslan's face surrounded by falling snow.
Using the same design theme, FoxMovies.com has added a new banner on their page for 'Dawn Treader.'

And finally, NarniaWebber narnian1 writes:
So I went to the movies tonight. And Narnia has never been more prominent. They've had the "3D" cut-board for a while now. Over the summer I gave the pic of a banner that hung from the ceiling. This aside of the regular poster on the wall. Well, now they have a huge poster of Aslan (identical to the first poster), and it's behind where we buy tickets.

But I noticed a new one for the first time. Unfortunately I didn't have my camera with me, and I won't be going back for some time to the theater. I did however have my phone and it does have a camera. Only it takes small pics.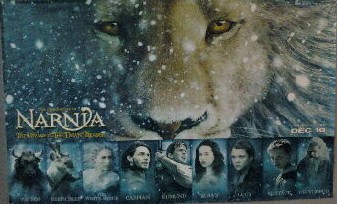 It is interesting to me at least that most of the main characters have a little poster shaped rectangle at the bottom. Does this mean that character posters might be available in the future? Who knows?
Thanks to icarus and narnian1 for the heads up!