Possible New Dawn Treader Banner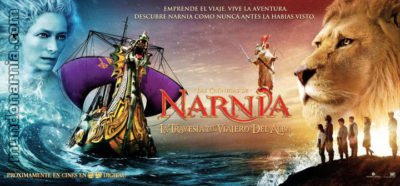 Spy reports from several of our watchful members have alerted us to MundoNarnia's report on the existence of this possible new banner for The Chronicles of Narnia: The Voyage of the Dawn Treader. Like previous banners and posters, this also features a collection of characters along with the Dawn Treader herself. Oddly, the two oldest Pevensies join the grouping of characters comprised of Edmund, Caspian, Lucy, and Eustace. This banner features the return of Reep to the logo and the White Witch glowering down upon the characters.
The banner's text is Spanish. Aslan's Country reports the tagline is translated to: Embark on the journey. Live the adventure. Discover Narnia as you've never seen before.
As of this posting, we have no confirmation that this poster is actually an official promotional piece. Keep an eye on NarniaWeb for updates.