Seven Dawn Treader Discussion Points: Week 1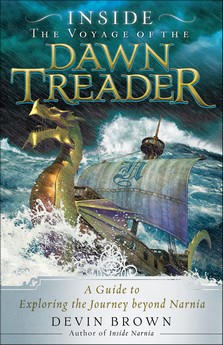 Professor and author Dr. Devin Brown has provided us with seven discussion questions based around The Voyage of the Dawn Treader for the seven weeks leading up to the film's release. We are pleased to release the first of these discussion questions today and will release another question each Friday. You can join the NarniaWeb forum at http://forum.narniaweb.com/viewforum.php?f=24 to participate in the discussion group. Look for lots of lively and stimulating conversation.
Dr. Brown's introduction reads:
In his autobiography, Surprised by Joy, Lewis records a turning point as he was learning to write.  He tells readers, "Up to then, if my lines rhymed and scanned and got on with the story I asked no more. Now . . . I began to try to convey some of the intense excitement I was feeling, to look for expressions which would not merely state but suggest. . . . I had learned what writing means."

In The Voyage of the Dawn Treader, we find a number of intriguing passages where Lewis suggests more than he merely states, places where he invites the reader to first read carefully and then to think about the implications of what was written.

In keeping with the Dawn Treader's quest for the seven lost lords, I have provided seven discussion points from Lewis's wonderful story, places where he invites us to speculate on what a passage may suggest.
If you like these discussion questions, you may be interested in the book Inside the Voyage of the Dawn Treader: A Guide to Exploring the Journey beyond Narnia
.
And so, with many thanks to Dr. Brown, we present the first discussion question: "How Ever Many Skins Have I Got to Take Off?": What Is Lewis Saying?
We'll see you over at the forum!