Fandango.com Narnia Gift Cards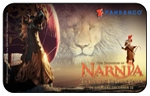 Just in time for the holiday season, Fandango.com is selling The Voyage of the Dawn Treader themed gift cards which you can purchase and either mail or email to your friends and family. These Fandango Bucks Gift Cards can be used to purchase movie tickets from any theater that sells tickets through Fandango.com. Go here to check it out.
Thanks to icarus for the heads up!