Interactive Trailer Game on Narnia.com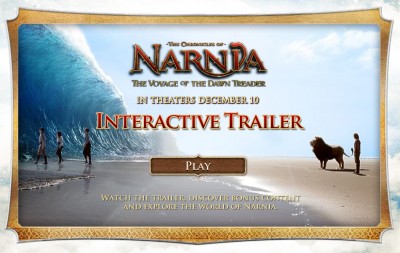 Narnia.com has added their latest game to the site called the Interactive Trailer. They have taken the theatrical trailer for The Voyage of the Dawn Treader and put points in it where can pause it and download wallpapers, watch special videos and interviews, and read little snippets about the books and movies.
The video clips we reported on a few days ago here, but the interactive trailer is very cool to play around with. You can can do so by going to Narnia.com here. You can also get there by clicking on Reepicheep on the Dark Island screen.
Thanks to Under_the_Palmtree and Louloudi the Centaur for the heads up!