Video Interview: Georgie Henley and Will Poulter
NarniaFans.com had a chat with Georgie Henley (Lucy) and Will Poulter (Eustace) in Los Angeles as they were preparing for their Taubman Narnian Ice Palace presentation. You can watch or read the full interview here.
A quick outline of what they talk about: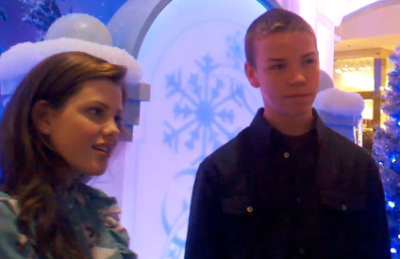 Will joining the cast
The emotion of filming Georgie's final shots
Working with Michael Apted and Andrew Adamson
Themes, character arcs
Favorite book in the series (both say Dawn Treader)
Playing two sides of Eustace
Comedy in the film
Reactions to seeing the film
Here's a clip:
NF: What are some of the most significant themes in the movie or book?
Georgie: I think the most significant theme is temptation. I think that's the main one. Because every character faces its own temptation. […]
Will: And also, subsequent to the battle and temptation, there's sort of a theme of redemption as well, you know. I think Georgie certainly experiences that and you know Skandar experiences that as well and Eustace does certainly with the transformation of the dragon.
[…]
Georgie: I think one of the really cool things about this film, is that it actually takes a lot of things from the book which aren't played upon a lot… […] for instance, you do find out a little bit about Lucy's jealousy of her sister, but it's not really explained a lot, whereas in the film, it's kind of the whole arc of my character-yeah, and it's really great to have something grittier to put my teeth into instead of always playing very sweet and very [*smiley facial expression*] roles.