Dawn Treader Will Be a Marathon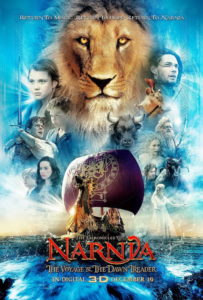 Deadline Hollywood has posted Friday box office estimates at $9m and extrapolated that out to an opening weekend estimate of $28m for The Voyage of the Dawn Treader. By comparison, The Lion, the Witch, and the Wardrobe made $65m on opening weekend and Prince Caspian made $55m. It's obvious that these are very early numbers and things can still turn around. We're only half-way through the weekend! But if this trend holds, it won't be a good sign for the Narnia franchise.
The Voyage of the Dawn Treader is showing on 3,555 screens and made roughly half of Friday's cum for Prince Caspian ($19m).
It's important to remember, though, that films opening in December generally don't have huge opening weekends (LWW was an exception) and that the real value to the December opening is that the box office gets the benefit of the entire month. There isn't much competition in the box office for family films this Christmas (only Tron) so it's expected to do well every week through Christmas. In fact, Fox has just announced today that Gulliver's Travels has been moved to Christmas Day which leaves December 22-23 open for Dawn Treader.
It's important that the faith and family community gets out to support these films in a big way. If you haven't seen Dawn Treader yet this weekend, please see it! As Douglas Gresham says, "take your friends and take your enemies."
The Voyage of the Dawn Treader at Box Office Mojo
Prince Caspian at Box Office Mojo