Michael Apted Voices Concern Over Narnia's Future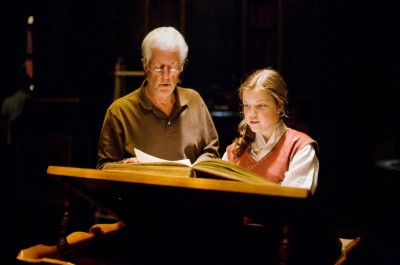 Michael Apted made a statement which is sure to prove controversial amongst Narnia fans. He says:
"I would be surprised if they did all seven books. I suppose the fourth one might work better now after the changes we made in the third… but after that it goes haywire.

"With a franchise, the continuity of characters is actually quite crucial and I don't know how they are going get beyond book four. I think it is a problem."
(The full interview is available here)
On one hand, I understand where he's coming from. Unlike Harry Potter, Twilight, Lord of the Rings, and essentially every other popular book series out there except Narnia, there is a common set of characters that is carried throughout the whole story. That doesn't happen with Narnia. In every book, there are different characters. Even from The Lion, the Witch and the Wardrobe to The Silver Chair, while a few main characters carry over, almost all of the secondary characters are new.
I would suspect from a movie marketing standpoint this is a nightmare to have to remind people who aren't familiar with the series that "Hey! This is Narnia again!" And I suspect that's why we keep seeing the White Witch, Peter, and Susan popping up on The Voyage of the Dawn Treader ads.
That being said, in this Narnia fan's opinion the uniqueness of each book is precisely one of the strengths of the series and sets it apart from any other franchise. Sure we say goodbye to the Pevensies for a while, but we get Jill Pole and Puddleglum, Shasta and Aravis, Digory and Polly, Tirian and Jewel!
I would like to offer one piece of advice to the filmmakers (not that I have any sort of credentials in which to do so). Do not look at The Chronicles of Narnia as a series or franchise per se because then you will spend all of your time trying to come up with ways to tie them together. Rather, look at them as seven individual chronicles that just happen to take place in the same world, and embrace each story for their individual strengths! No other fantasy series out there that I know of can do that.
Thanks to Kate and aslanismyman for the link!
UPDATE: The link above now has the full story instead of highlights. Thanks Sammie!