Skandar and Georgie's Trip in the USA
Last week Georgie Henley and Skandar Keynes trekked through America to help promote The Voyage of the Dawn Treader.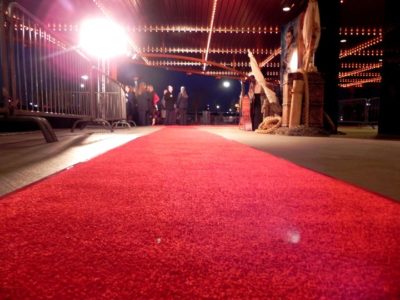 On December 8th, Georgie and Skandar attended the Red Carpet Gala in Knoxville, TN to help raise money for Variety's Children's Charity. We were sent a report from NarniaWebber EdmundP.
Last night I had the wonderful privilege of attending the Knoxville Gala for The Chronicles of Narnia: The Voyage of the Dawn Treader.

I arrived in Knoxville at 1:30pm, Wednesday. After a delicious lunch at Panera, I headed to my hotel room, just .5 miles from Regal Cinema's Pinnacle Stadium 18, where the Gala was held.

At 4:30pm I arrived at the cinema. All entrances and exits were guarded by policemen. In order to be admitted, you had to show the policeman your ticket and/or media credential. I waved my ticket to him and he let me pass, of course. I parked near the back of the lot, since it was nearly full already. I walked around the gated area and headed to the media area where my pass was waiting for me. The Red Carpet was down, the lights shining on the front of the cinema, and the fans waiting to go inside and get warm from the subfreezing temperatures.

The reception was catered by Abuello's, a local Mexican restaurant. I didn't eat anything, but I was told that the food was excellent.

Narnia, Narnia, and more Narnia! Where all of the upcoming movie posters usually line the exterior of the front of the cinema, every single one was replaced by a Voyage of the Dawn Treader poster. Where the Box Office's ticket information usually is was replaced by Aslan's eyes blinking in the snowfall. In the Concessions area where the menu is usually displayed, was replaced by Aslan's blinking eyes in the snow and Variety's logo (and there were about 10-12 TV's displaying this simultaneously). A replica of the Dawn Treader hung above the Red Carpet inside the cinema.

There was a quintet playing on the stage, to the right of the Red Carpet. They played mostly classic Christmas music and played until around 7:25pm.

At 5:30pm the crowd of 600+ people poured through the doors of the cinema. You literally had people packed in there with hardly any room between each person!

Two other NarniaWebbers and myself met up in front of the stage and had our photos taken together. It was so fun! Soon after that, one the NarniaWebbers headed to the Red Carpet, near the stage and entrance of the cinema, hoping to get Georgie and Skandar's autograph.

The other NarniaWebber and myself were with the press, so when the stars arrived at 7:30pm, we were outside in the subfreezing temperatures with our hands and faces about to freeze off! Georgie arrived about 8-10 minutes before Skandar. Georgie headed in the opposite direction and was signing autographs for that time, then Skandar arrived and came to the press almost immediately after signing a few autographs for the unfortunate people who did not have tickets for this event. Also, even more unfortunately, my voice software for my iPad was not working properly, so my entire interview with Skandar is lost!

After Georgie was finished with signing everyone's (or very nearly everyone's) ticket, poster, etc, she headed our way. And my camcorder WAS working correctly.

Interview:

Me: Firstly, may I have your autograph?

Georgie: Yeah, of course. Actually, I don't have a pen. . .(person hands her a pen) Oh, there we go, there we go! Haha. And, I've got to say, I've never seen an iPad being brought to the Red Carpet, nice one.

Me: Thank you! Is there anything about Lucy that you admire and want to emulate?

Georgie: Um, she's definitely going through a tough time in this film, but it's the way that she deals with it, which is, like, really cool. And it's a really good thing for other young girls to kind of look at and admire, so yeah, I try to.

Me: And do you think the character arcs they've added to Lucy fit with well with the Lucy of the previous films?

Georgie: Yeah, definitely. Um, it's cool that she's not so naive and sweet all the time and that she's kind of growing up a little bit. So I'm really glad that it was, um, kind of her from the first two films, but adding a bit more spice and a bit more something.

Me: Yeah, and with this being your last Narnia film, for a while, what's next for you?

Georgie: Um, school. I've got big exams coming up, but I'm hopefully going to be acting in the near future. I really want to keep acting, so hopefully you'll see a bit more of me if people hire me! (laughs)

Me: Well, I'm sure they will!

Georgie: Thank you!

Me: Thank you.

Georgie: Thank you.

End of interview.

After this, they stood in front of the Narnia poster board while the media was snapping away! Following this, they walked inside on the Red Carpet. Everyone went crazy.

Presentation:

Georgie: Hellooo! (I didn't begin recording quickly enough right here) We have raised over $450,000 for charity tonight. So, that's pretty amazing. And we're so glad you all came out tonight. Um. . .

Skandar: Yeah, hello! Well, thanks everyone who (…) and yeah, we're absolutely honored to have our names written in stone. . .in gold writing! And yeah, thanks to everyone who made it possible today and made this happen. And thanks everyone who donated to the charity and we're really happy to be hear and we've had a great time in Knoxville. Sad to be leaving so soon. And I hope you enjoy the film.

Georgie: Yes, please enjoy the film!

End of presentation.

After this, everyone filled up the 12 theatres showing the film. There were bottled waters, cokes, and diet cokes outside the entrance to the theatres. Employees stood at the entrance handing us popcorn. Our RealD 3D glasses were in our seats.

I was completely captivated by the film. It truly captured the very essence of the book. I can honestly say that, even with the Green Mist plot, and the slight changes that were made, this is THE BEST NARNIA MOVIE YET!

GO SEE IT!
Thank you very much for your report EdmundP!!
The morning of December 9th, Georgie and Skandar arrived in Washington DC to help name one of the cubs at the Smithsonian Zoo, Aslan. Here is a snippet from Infozine.com.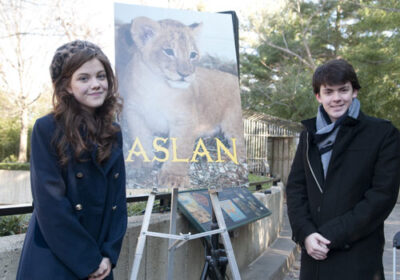 To commemorate the birth of two new lion litters and a donation by 20th Century Fox for cat conservation, two actors from Hollywood's upcoming installment of the Chronicles of Narnia series came to the zoo to name one of the seven lion cubs.

Skandar Keynes and Georgie Henley, whose "Chronicles of Narnia: Voyage of the Dawn Treader" hits theaters Friday, were treated to a behind-the-scenes look at the Great Cats exhibit, and selected a lion cub to name Aslan, after the movie and book series' principal feline, also a lion.

"We've had a long trip coming into New York, with a lot of publicity, but I think this has definitely been the highlight," Keynes said.
The full news story from Infozine is available here. You can also watch a video of their visit on Zap2It's site here. And JustJaredJr has a lot of pictures on their website here.
Thanks to Nyetwerke, Narnia Queen419, and Estefana for these links!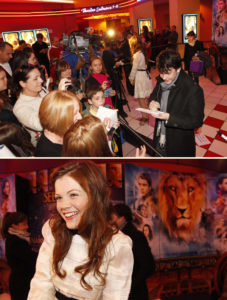 Later that evening (on December 9th), Georgie and Skandar arrived in Lexington, KY where the special US premiere for The Voyage of the Dawn Treader took place. Here's a snippet of a report from Kentucky.com.
Abbey Henson, 9, gushed in an adrenaline-fueled stream of consciousness, her hands fluttering, her braced teeth chattering, just seconds after hugging Skandar Keynes, who plays Edmund Pevensie in the Narnia films.
"I've liked Narnia for like three years. … I've saved pictures … I've made PowerPoints, I've drawn pictures of them. I've dreamed of them. And now I got to meet them, and Edmund is like my favorite character!" said Abbey, who encountered her idol Thursday at a Lexington premiere of The Chronicles of Narnia: The Voyage of the Dawn Treader. "I really think I need to sit down," she said, swaying slightly, clutching the ticket Keynes had autographed.
The full report and a video is available here and pictures are available here.
Thanks to Hldai for the link!