Visual Effects Breakdown, High-Res Screen Shots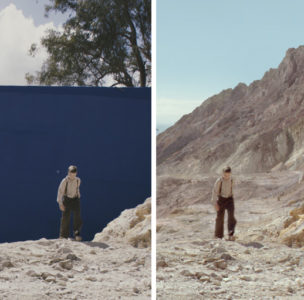 FXGuide has a lengthy article breaking down how some of the most complicated effects shots in The Voyage of the Dawn Treader were achieved. The article also includes some fantastic high-res screenshots from the film.
Framestore, MPC, Cinesite, The Senate and The Mill worked on 1400 visual effects shots for the film. Here are some clips:
Aslan:
"On the last show we had been asked to go for a golden fantasy lion but this time we went with more of a real lion," recalled Fawkner. "So we changed his colour palette to be a more realistic lion colour. And we introduced a darker mane."
Dufflepuds:
"These creatures are very active and jumpy so to get the best result we would have really had to have gone fully 3D," said Fawkner. "But 16 fully 3D characters each with a different haircut and clothes was just a huge amount of work. So it was decided to go with a CG leg and trouser approach.
Reepicheep:
"We saturated his colour a little, gave him slightly bushier eyebrows and some extra ear hair and made his whiskers a little more wirery just to give him a sense of age. He's also a little more pot-bellied than he was in the last film."
Sea Serpent:
"The end composition everybody picked was the most far out design that we had," said Valdez. "I think everyone reacted to the concept art that had all these crazy spines."
White Witch:
To create the White Witch, Cinesite took greenscreen photography of actress Tilda Swinton and digitally massaged her into a more ethereal being. Artists generated a 3D model of Swinton's head and animated it in Maya.
Opening Shot:
"We modelled the buildings in Maya using thousands of bracketed photos we had taken. It also happened coincidentally that the tower itself had a lion head repeated around the sides of it."
The article also talks about the picture in the bedroom, DragonEustace, the never-crashing wave, the Dawn Treader herself, the mist, Narrowhaven, Coriakin's map, Ramandu's daughter, and the water nymphs. Read it the entire article here.