Win Props from 'Dawn Treader'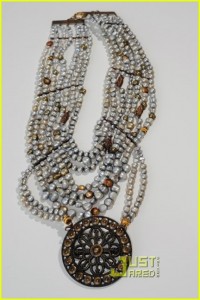 The Official Facebook page for Narnia is reporting that several websites are hosting contests where you can win props from The Voyage of the Dawn Treader.
First up, JustJaredJr is hosting a contest where you can win the necklace worn by Gumpas in The Voyage of the Dawn Treader.
To enter, simply click here, "Like" JustJaredJr on Facebook, leave a comment in their comments section, and make sure you include a legitimate email address so they can contact you if you win. Comment as many times as you want to increase your chances of winning!
(Now, there has been some confusion as to who Governor Gumpas was in the movie as his role was changed from the book. He's the guy that Eustace smacks across the face with an oar.)
Next, CHUD is giving away Lord Octesian's Silver Sheild.
To enter:

1) Send an email to creaturecorner at gmail.com with your full name, mailing address and date of birth. (Minors 13-17 years old can win but they'll need a parent or guardian to sign it off for them.)
2) Include NARNIA in the subject.
3) While it seems like most fantasy series have been adapted to films, which one hasn't yet that you'd most like to be?
4) The CHUD Staff is at war with an unnamed force. What role does each person take in the battle and how do we fare?
Full contest rules are available on their website here.
And last but not least, StarPulse is giving away Pug's necklace worn in the movie.
To enter, head over to their website here and fill out the information requested. The winner will be selected by random drawing.
All contests are only open to residents of the US, ages 13 and up. All contests require a form to be signed that you will not resell the item on ebay. Good luck!