Pre-order The Voyage of the Dawn Treader
The Chronicles of Narnia: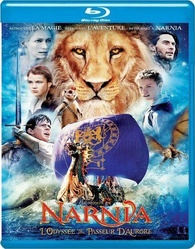 The Voyage of the Dawn Treader on DVD and Blu-ray disc is now available for pre-order from Amazon.com. The release date hasn't been announced, but the DVD should be released in mid-April. To pre-order your copy, click the links below:
The Voyage of the Dawn Treader (2-disc Edition) $24.49
The Voyage of the Dawn Treader (Blu-ray Edition) $27.99
The Amazon detail pages don't have any information about special features on the disc, though it's probable that in addition to the usual making-of features there could be several extra scenes which were removed from the theatrical release. We expect that more information about the DVD will be released soon.
Please note that when you purchase your DVD through these links you are helping to support NarniaWeb. Your credit card will not be charged until your order is shipped and if Amazon lowers their price between now and the release date you will be charged the lowest price available.