Why is Walden Making 'Magician's Nephew' Next?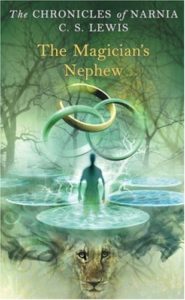 The Christian Post caught up with Micheal Flaherty to talk to him about the future of the Narnia films. Flaherty confirmed that Walden plans to make The Magician's Nephew as the fourth Narnia movie (which we already knew) and that they're currently in talks with Fox and the C.S. Lewis Estate about it.
But what was interesting was one of the reasons he listed as to why they were making The Magician's Nephew next instead of The Silver Chair.
Looking ahead, Walden Media believes The Magician's Nephew has the potential to be a blockbuster hit like The Lion, the Witch and the Wardrobe because it is the second most popular book in the Narnia series.

Flaherty explained that box office performance for Narnia films appears to mimic the amount of people's interest in the books.

"What's interesting is that the Lion, the Witch and the Wardrobe over this period of time sold twice as many books as Prince Caspian and it did twice as much at the box office. Prince Caspian sold a third of the books as Dawn Treader and did a third at the box office," he noted.

"So while it's not always a correlation between books to film, so far with these first three films, it has been."
The full story is available here.