Detailed 'Dawn Treader' Blu-ray Review
Just as he did for the Prince Caspian release, NarniaWebber 'Griffle' has sent us the most detailed review of The Voyage of the Dawn Treader Blu-ray you will find on the web! It includes a description of all the extras, including the deleted scenes.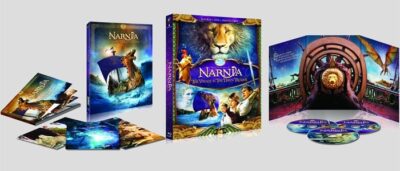 The following review is for the 3-disc Blu-ray edition, which also includes a DVD and Digital Copy.
'Griffle' writes:

[DISC 1: BLU-RAY]
Picture:
The film looks gorgeous from beginning to end, but really shines during the arrival at Doorn. The sunlight falling on Reepicheep's fur and on Caspian's burgundy velour jacket is exquisite. Another scene worth mentioning here is the scene at the Campfire on Goldwater Island. The blacks are solid in this scene and the contrast levels are perfect as the light of the fire fall on Reep and Dragon Eustace. I could go on…You can pick any sequence from the film really.
VDT doesn't really reach the level of quality set by LWW and PC, but it does look really good on Blu-ray. Even though the colours might not be as lush as in its theatrical release, there's nothing wrong with the colours on the BD.
Sound:
I find it a bit weird that Fox have decided not to include a 7.1 mix on the Blu-ray and instead opted for a 5.1 mix. But, The sound on this disc is amazing though so there's nothing to complain about. The bass sound is really impressive throughout the film, starting with the roaring sound of the planes flying by in the opening sequence (or not flying by as in this case as they are digital) and peaking during the storm and Sea Serpent attack sequences towards the end. Surrounds are always active and constantly engaged. Take the sequence where Lucy walks down the corridor leading to the big room with the Book of Incantations for instance. Her steps against the floor echoing down the hall, the wind blowing…. Wow.
Extras:
The extras menu is shaped like a map with the Dawn Treader in the middle and the five islands in a circle around it. Each island, and the Dawn Treader herself,  has a clickable unrolled scroll with its title, also known as a submenu. What this means is that you don't really get a good overview of what's actually on the disc just by looking at the extras menu.
Let's start with the Dawn Treader and then move from island to island in chronological order…
–DAWN TREADER
King Caspian's Guide to the Dawn Treader  (04:13)
Of all the extras on this disc, this is the one that I was looking forward to seeing the most. Unfortunately, it's also the most disappointing feature on the disc. When I first read that there was going to be a feature with "guide to the Dawn Treader" in its title, I naturally though that we were going to get an actual tour of the Dawn Treader set. You know, see the ship in detail, both inside and outside. No such luck. This, like many of the other extras on the disc (you'll see) consist almost entirely of clips from the film with a bit of narration laid on top of it. Ben Barnes as King Caspian in this case. There are a few still photographs here and there, but there is no video footage shot specifically for this extra. When you click on this feature in the Dawn Treader sub menu, you get to another sub menu where you can choose to have a look at a specific section of the ship or view it all at once. Viewable sections of the ship are Main Deck, State Room, Poop Deck, Map Room and Oar Room. As we're talking about a feature that is around four minutes with the Play All option, I don't really see the point of watching it in parts.
The Secret Islands: Untold Adventures of the Dawn Treader  (07:20)
Again: disappointment! I was so expecting this to be a fully animated.  What we get though,  is not a total waste of time. I mean, you do get to see Pauline Baynes illustrations come to life and they're as colourful as ever. I guess what you think of the actual content and how it's presented with its Ben Barnes as King Caspian narration is up to you. I can't say I care that much for this myself.
–FOX MOVIE CHANNEL PRESENTS:
In Character with Liam Neeson of The Chronicles of Narnia: VDT  (05:06)
In Character with Georgie Henley and Will Poulter of The Chronicles of Narnia: VDT  (05:20)
Direct Effect – Michael Apted of The Chronicles of Narnia: VDT  (06:27)
Making a Scene – The Chronicles of Narnia: VDT  (09:11)
(View/download)
–LONE ISLANDS
Okay, so now we're getting to the Smoke & Mirrors parts of the disc. There are two type of extras that you'll find  under the Island submenus that consists of nothing but clips from the film with a bit of narration. The first type is called "Island Explorations", dealing with the islands of the movie and the second type is called "Narnian Discoveries: Friends and Foes of Narnia, dealing with… yeah, you got it…friends and foes of Narnia. They're obviously aimed at children.
I've taken the liberty of transcribing the narration of them for your entertainment making them take up just as much space in this review as they do on the disc in number:
Explore Narrowhaven  (00:42)
Unknown Female Narrator: "Tread carefully here, for you have reached the Lone Islands. An isolated place where Treachery and Greed have been known at times to corrupt the hearts of men. One such figure was Governor Gumpas, who pursued a path of wealth and power even if it meant enslaving the island citizens. But there is also much beauty in these islands, which are three in number: Felimath, Dorn and Avra. The latter being a land often visited by Narnia's noble men and women."
Minotaur Discovery  (00:51)
Unknown Female Narrator: "Tavros is the Dawn Treader's First Mate. A strong and intimidating Minotaur, his size and might are a boon to the Dawn Treader crew, especially in the rowing, sail hoisting and heavy lifting departments. Despite his sharp horns and stern visage however, this half man, half boar does have a sense of humour (clip from film: 'Was it something I said?') and is loyal to his King. Especially when the going gets tough. (clip from film: 'Man the long boats, furl the sail and prepare to drop anchor!'"
Deleted Scenes  (04:27)
— Scene 11: The Kids in Narnian Clothes  (00:35)
This is a short scene in which we see Edmund and Lucy in their Narnian clothes for the first time. Lucy is a bit uncomfortable with wearing Caspian's clothes and he makes fun of her for wearing them saying "Excuse me lad, I don't suppose you've seen a young girl around here?". Lucy responds by giving him a jab to his left arm and saying "all …right!". This scene contains unfinished VFX work. The feet of a satyr needs to be added and the backgrounds have to be fixed.
— Scene 14: Eustace is Ill  (00:43)
This is a  great scene in which Eustace is lying in his cot under deck as he's visited by Lucy. He's sick and obviously delirious as he mistakes a Faun bringing him some soup for his Mother. "Lucy, why does Mother smell like a Goat?". That line is pretty funny! Worth noting: Lucy sure doesn't value the content of her cordial the way she once did in this scene as a huge drop of Fire-Flower juice is seen trickle down Eustace's chin as she gives him some to make him feel better.
— Scene 65: Mutiny  (02:23)
I love this scene. It never comes to mutiny, but it's really close. Caspian tries to speak to the crew but fails and Drinian has to step in and take command. How humiliating.
— Scene 90: Caspian "Doubt"  (00:55)
The first ten seconds of this is in the film. Caspian tells Edmund that they can't be sure the other  lords even made it to Ramandu's island and asks "How do we know they weren't tempted too?" Edmund ensures him that they should be alright if they never yielded nor faltered as the first lords did.
The Epic Continues  (02:15)
This is from the Electronic Press Kit (EPK) and it's a trailer + interviews mix in which the director and actors try to explain the plot of the film.
— MAGICIAN'S ISLAND
Explore Magician's Island  (0:42)
Unknown Female Narrator:  "Welcome traveler! You have arrived at Magician's Island, which takes its name from its most brilliant and mysterious resident: Coriakin. The island is also home to a remarkable race known as the Dufflepuds, who are no less wondrous although far less brilliant. Some visitors to this island mistakenly believe it to be abandoned; so silent and empty is the land around its sandy beach that those that stay, to listen and look more closely, will find many signs of life and a hint of the ancient magic that lies deep within it."
Dufflepud Discovery  (01:01)
Unknown Female Narrator: "Short and often fat with round faces, unkept hair and of course: One giant foot. Dufflepuds inhabit the island of Coriakin, the magician. They coerce Lucy to undo a spell that has made them invisible. They need her help, because they themselves are illiterate. Although mostly simple and good natured, they believe Coriakin to be the oppressor and live in fear of his magic. They spend most of their time manically guarding Coriakin's grounds grooming the bushes and hedges into strange and fantastical formations. They are also know to rest on their backs, using their giant feet for shade, and can also float on the water, paddling about, using the foot as if it was a kayak."
Commentary by Director Michael Apted and Producer Mark Johnson  (1:48:03)
Dry, humourless, boring. Mark Johnson even loses his voice halfway through the thing, that's how dry it is. The highlight  (if it can be called a highlight) of the track , is the fact that Johnson says they seriously thought of using Skandar's sister's voice to dub over Skandar's performance when his voice started to break during the shooting of LWW.  Apted briefly mentions the Green Mist and says that the movie needed a great villain (how good a villain a Green Mist is, is not discussed however). As for the seven Lords being substituted by seven Swords: That's not mentioned at all. There's also no mentioning of the critique against the film, leaving me to believe that it was recorded before the theatrical release. They talk about the Queen wearing 3D glasses though, so it's recorded after that.
–GOLDWATER ISLAND
Explore Goldwater Island  (00:50)
Unknown Female Narrator: "Enchantment can take many forms, both beneficial and deadly. Here, on tiny Goldwater Island, you may find both kinds of enchantment in a single spot. It was King Caspian that gave the name Goldwater to this 20 acres of land, when he and his friends found the magic within an island pool; a magic that turned all it touched into gold. But beware of that water, or you may find yourself beneath it; a forgotten gold statue like the unfortunate lord Restimar. Fate is as changeable as the weather here, which can shift in a moment, from sunshine to showers."
Dragon Discovery  (00:56)
Unknown Female Narrator: "Well known throughout mythology, Dragons are large winged reptilian creatures that can breathe fire. Eustace becomes a dragon when he thinks greedy dragonish thoughts while picking through a Dragon's enchanted treasure horde. This unfortunate condition can only be reversed by Aslan's power."
Theatrical Trailer  (02:12)
This is the third trailer that was released, the one in which we got to see more of the bit at Aslan's Country at the end of the film.
Digital Copy "How To"  (03:35)
An infomercial explaining how to make use of your Digital Copy. I've personally never used any of my Digital Copy discs. Not because I'm against them all that much, but because most of the discs that I buy are US imports, making them useless as they are region locked. It's a shame, since it would be pretty cool if I could get VDT onto my iPod Touch. Most if not all US released Digital Copies are iTunes friendly but they always use Windows Media over here, so I guess it's never gonna happen for me. Sad but true.
–RAMANDU'S ISLAND
Explore Ramandu's Island  (00:59)
Unknown Female Narrator: "You have now reached the island of Ramandu. Breathe deeply and you may detect a pleasant aroma. It's rather like the colour purple, isn't it? The calm you feel is reflected in the gentle slopes and hills that surround you. This is a fitting home for Ramandu, a figure who was once a star before he descended to this island along with his daughter. You will find  a reminder of Ramandu's past at night if you look up into the silver stars that glitter, then disappear in the greyness of an Eastern Sky."
Reepicheep Discovery  (01:10)
Unknown Female Narrator: "A valiant defender of Narnia's glory and a firm believer in the existence of Aslan's Country at the end of the ocean. The mouse Reepicheep's enormous sense of honour and his skills with a rapier belie his short stature. He's delighted to see Lucy and Edmund again but turn a sceptical eye toward the insolent Eustace. After magic and battle (wow) reveal a new side to Eustace however, Reepicheep realizes he's indeed a kindred spirit. Reepicheep is descended from the common mice who gnawed through the ropes (I actually own a piece of this holy relic) that bound Aslan to the Stone Table  when the White Witch demanded his sacrifice. To honour their service, Aslan gave the mice the gift of speech. Reepicheep is noble, fearless and exceedingly courteous. Except when his honour is insulted or if someone touches his tail, which Aslan himself restored after it was severed during battle with the Telmarines… and Prince Caspian." (Say what? Reep fought Caspian!?)
Aslan Discovery  (01:02)
Unknown Female Narrator: "The Great Lion, the Emperor Over the Sea and the Creator of all Narnia. Aslan is the protector of all that is good in this land, although, as is often pointed out: he's not a tame Lion. As the Dawn Treader's voyagers speculate about the existence of Aslan's Country, which may or may not lie at the end of the Eastern Ocean, the Great Lion makes his presence felt in very subtle ways. Helping them chose their own destiny and confront the evil that they are pursuing."
Lilliandil Discovery  (00:52)
Unknown Female Narrator: "Seen in the sky as the Blue Star in the East, beautiful, luminescent Lilliandil, presides over Aslan's Table. She is the daughter of the Star Ramandu, upon whose island, the Dawn Treader's crew lands for much needed provisions. Before confronting the Green Mist and the mysterious Dark Island, Caspian is very taken by her and hopes to meet her again." There's actually a brief shot of Lilliandil smiling at the end of this that's not in the film.
Search for the Seven Swords Match Game
This is a memory game in which you get to see the seven swords, or in this case seven Rhindons, with Peter's Shield in front of each one of them. The handle on the swords and the lion's crests on the shields all have a different colours to them and you get 15 seconds to try and memorize their positions before a yellowish fire effect cover them. Colours are Red, Green, Pink/Bright Purple, Bright Blue, Dark Blue, Bright Orange and Dark Orange. This is pretty tricky if you ask me. It's all about luck when it comes to how they're placed on the screen. It took me about four tries to get it right and did I get anything for getting them all right? Nah…you get to see a clip from the film where the three Lords at Ramandu's island gets freed from the spell they're under. You're then asked if you want to play again.
VFX Progression with Optional Commentary by Director Michael Apted and Producer Mark Johnson
BLU-RAY EXCLUSIVE
This is my favourite extra on the disc. I'm in awe of the amazing visual effects work done for this film by VFX companies like MPC, The Senate, and Framestore. This is so cool! But why have Apted and Johnson to do the commentary for a visual effects progression reel? What do they know about VFX? Apted admits to this being his first big VFX film elsewhere on the disc and Johnson is just a producer (who, by the way, claims that the naiads are creatures created specifically for this film. At least that's what it sounds like). Why not have one of the visual effects supervisors do the commentary? Like Adam Valdez of MPC (the creator of Reepicheep for PC and the Telmarine Soldier killed by Reep in the battle at the end of PC btw) for instance.
Anyway, highlights include the "Footprint boat", the boat that they used to created the wake of the Dawn Treader and the many iterations of Tavros and Reepicheep. This feature covers all the VFX shots in the film from MPC's impressive Reepicheep and Dragon Eustace characters to Framestore's wave that never breaks, with one notable exception: The entrance to Narnia. I guess they figured they had that covered.
–DARK ISLAND
Explore the Dark Island  (00:57)
Unknown Female Narrator: "It has been called the Island where dreams come true, but not all dreams are pleasant and sailors have found how frightening the nightmare can be when it manifests itself in the dead of night. Many an illusion may appear before it vanishes into a smooth solid blackness. Your nerves may find some consolation in the bright blue water that surrounds this misty place. But beyond that water, lies utter darkness, as if you have reached the edge of a moonless, starless night."
White Witch Discovery  (00:36)
Unknown Female Narrator: "The White Witch that appears to Edmund on the Dawn Treader is merely a figment of his imagination unleashed by the mind bending Green Mist, but she remains a reminder to him that that which tempts us is always a threat and our vanquished foes still live on…in our minds."
Serpent Discovery  (00:42)
Unknown Female Narrator: "Conjured from the depths of Edmunds worst nightmares, the Sea Serpent that attacks the Dawn Treader is a relentless force of evil that will not stop until its prey is dead or destroyed. It is over 300 feet long; 311 feet to bee exact, or 95 meters, and when provoked, it reveals a hood like a Cobra's, ringed with a layer of fangs."
Portal to Narnia: A Painting Comes to Life  (07:22)
BLU-RAY EXCLUSIVE
This is the second of the two featurettes focusing on the entrance to Narnia on this disc. Being that they're both about the same subject, we do get to hear a lot of the same stories being told again and yes, there is a bit of overlapping as well, but not as much as I thought.
So, what separates this from the "Making a Scene" featurette? Well, first of all, it's better produced with fancy graphics showing us who the people being interviewed are. Another thing this has that "Making a Scene" doesn't have is Barry Robison. Barry actually built the sets for the scene, (or at least designed them) so I thought it was a bit strange when he wasn't represented in the "Making  a Scene" feature. We also get to hear from visual effects supervisor Adam Valdez.
Producer Mark Johnson shortly discusses the difference between Lewis' version of the scene and the version that is in the film. There's also more of Will Poulter being humble as he is. What a nice guy! Oh, and there are storyboards!
Good Vs Evil: Battle on the Sea  (10:55)
BLU-RAY EXCLUSIVE
It's funny, but you get to see more of the Dawn Treader set in this feature than in King Caspian's Guide to the Dawn Treader, which is really appreciated. This is a great featurette in which we get to see them film shots from the Sea Serpent battle inside of a huge studio with Blue Screen all around. You get short interview clips with people like Michael Apted, Georgie Henley, Skandar Keynes, Will Poulter, Allan Poppleton, Howard Berger, Adam Valdez, Dante Spinotti, Barry Robison , Douglas Gresham (only appearance on the disc I believe) and Mark Johnson of course. Johnson is everywhere! You also get to see early concept art of the Dawn Treader and of the Sea Serpent, which btw looks a lot better in the film.
BD-LIVE EXTRAS
You can choose between "What's New" and "Exclusive There's a Place for Us by Carrie Underwood Music Video" here from the main menu. I've tried to access the What's New feature several times now and I get to a blue screen with some fog that is displayed for like a second before the screen goes black, and all of a sudden I get the 20th Century Fox Home Entertainment logo in my face followed by the lame Digital Copy commercial and the birds and dogs of Rio and Marley & Me: The Puppy Years. I haven't clicked on the Music Video yet, but I've already seen it and I don't really care for the Carrie Underwood version of the song.
WHAT'S MISSING
Absent from the BD (and the DVD for that matter) are the International Music Videos many thought would be included on the disc. They're not. They will however make it onto the UK release according to a newly posted announcement by FOX on dvdactive.com. The same announcement also claims this release will have five deleted scenes instead of the four included on the US disc. (says "x5", might be a typo)

[DISC 2: DVD]
DVD Picture/Sound
The blacks are grey instead of black and the colours are far from as vibrant as on the Blu-ray, but other than that; it looks great for being a DVD. Good old Dolby Digital 5.1 still delivers. It's not as nuanced as Blu-ray audio but it still sounds great. Dialogue is clear and surrounds are active.
DVD Extras
The DVD includes the Deleted Scenes and the Audio commentary, that's it. There's a 2-Disc Special Edition available to buy as well, but this 3-Disc set does not include the second disc of that release.
(Note: If you buy the DVD edition of the film, you will be able to watch all the extras, except for the ones marked "Blu-ray Exclusive" of course)

[DISC 3: DIGITAL COPY]
I've never been able to get this to work due to the region and format difficulties, so I have no experience at all of using Digital Copy discs. There's more than enough information on how it all works between the flyer, the commercial and the "How-to" though, so there shouldn't be a problem for people that want to be able to watch their movies on the go.
[PACKAGING]
Beautiful, sure, but practical? Remember the Clam Shell packaging Warner used for their DVDs in the early days? Whatever happened to those? There's no reason  for this type of packaging not to join the Clam Shell in the DVD mortuary. It's layer upon layer upon layer of packaging. Takes half a minute just to get the discs out. Durable? Eh….nah…not really. In fact, the true die hard fans of this film will probably end up with both ripped packaging AND scratchy discs. (at least when it comes to the DVD)
The 3-Disc set also comes with a booklet containing a number of collectible Postcards. As a collector, I've never really understood the point of these. Who would ever want to use collectable postcards as actual postcards? Why detach the postcards using the perforation and destroy a perfectly fine picture book? And such an elegant one at that.
There's a Digital Copy flyer as well, explaining how to make use of the Digital Copy disc when not using it as a coaster. (Yes, I'm making the same joke as I made the last time, it's still applicable)

OVERALL
Well, this is a HUGE disappointment of a release, you can't really say anything else. Fox have deliberately used the submenu system to hide the extras and to make it more difficult for us to get an overview of what's on the disc, and even if we did get an overview, what we would see would be a lie. There are thirteen "special" features on this  disc that are around a minute long. To be fair; there are a couple of worthwhile extras to be found here , like the BD Exclusive VFX Progression Reel and Good Vs. Evil: Battle on the Sea featurettes, but you better memorize where they can be found if you don't wanna look through up to six menus to find them.
You have to give Fox something for trying though, and you do get stunning picture quality and amazing sound so if you're not into extras; it's all good. The down side is that you have to get the 3-Disc set if you want it on Blu-ray as there aren't any alternatives.
If I was a DVD/Blu-ray producer and was handed the job to do the menus for The Voyage of the Dawn Treader, I would definitely have gone with a book illustrations theme and used the white, mother of pearl coloured backgrounds found during the end titles of the film. If you want to make a tribute to Pauline Baynes, why not go all the way? I would have tossed the Island sub menus in a second.
So…Three films, three DVD/BD releases. Which movie have had the best set of extras so far? In my opinion, it's a tie between PC for features like "Big Movie Comes to a Small Town", the Commentary with the Kids, Bloopers and all the extras on the sought after Bonus Discs, and the 4-Disc Extended Edition of  LWW for the wonderful C.S. Lewis documentary, the Picture in Picture documentary (before it's time) and for the inclusion of Art galleries.
Bring on The Magician's Nephew (my favourite)! Why not bring back Andrew Adamson for MN? 😉 😉