April Fools: Magician's Nephew Screenplay Leaked
Hope you enjoyed our April Fools jokes this year!
It's a phrase that sends shudders down the spine of any NarniaWebber: We have a leaked script.
A page from a purported script was posted yesterday at Twitpic. You can see the leaked script below. The story seems to be sticking very close to the book, in fact some of the lines are verbatim from the book.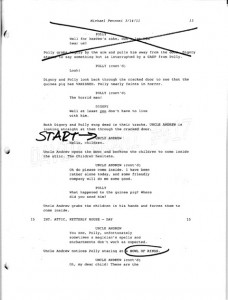 Click for a larger view
Please be aware that this has not been confirmed by the production, but it does appear that they may already be working on the screenplay for the next Narnia movie.