April Fools: 'The Giant Surprise' Next Narnia Film?
Hope you enjoyed our April Fools jokes this year!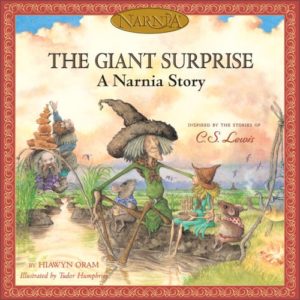 Walt Disney Pictures currently has The Chronicles of Narnia: The Giant Surprise listed for Summer 2013. Monsters, Inc 2 is also listed.
"A Giant Surprise: A Narnia Story" (Amazon listing) was written by Hiawyn Oram in 2005, before the release of the LWW film. Amazon's synopsis reads:
Based on characters originally featured in C. S. Lewis's The Chronicles of Narnia, The Giant Surprise is a brand new Narnia adventure story about Marshwiggles, giants, and mice for young children. Lally, a small wigglet, and her Uncle Puddleglum undertake a hair-raising rescue of their mice friends, before they become a giant's supper. This new picture book—and the others in the series—shares the values of C. S. Lewis's original work and explores a world of courage, kindness, and companionship.
THIS IS NOT CONFIRMED. But it could mean that the rights to Narnia have gone back to Disney. It may be that Disney is planning to release both "A Giant Surprise" and "The Magician's Nephew," probably at different times. If true, this may shed new light on Michael Apted's famous interview, in which he said they were drawing material from "the book C.S. Lewis didn't write."
Thanks to 'Caspian-11th' for the find!