'Dawn Treader' 3D Blu-ray Review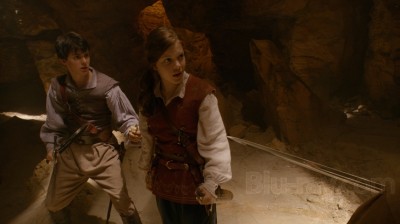 Blu-ray.com has posted a review for the 3D Blu-ray Disc release of The Voyage of the Dawn Treader, which released on May 24. Their overall score was 3 out of 5. Here is a clip:
"As 3D Blu-ray releases go, The Chronicles of Narnia: The Voyage of the Dawn Treader boasts fairly convincing depth, albeit in a flat, digital image. The encode itself is certainly sound, but the film — bright and bleached as it is — just doesn't lend itself to a dazzling 3D presentation."
The reviewer also comments on the difference in color between the Blu-ray release and the trailer:
"Second, there has been some confusion surrounding the color palette featured in the film's trailers and TV spots. But the sun-bleached appearance of the high definition transfer represents director Michael Apted's intentions. In other words, don't be alarmed by how washed out colors appear. There's no need to adjust your display."
In other words, the trailer is oversaturated. The Blu-ray Disc is more faithful to how the film appeared (or should have appeared given a proper projection) in theaters.